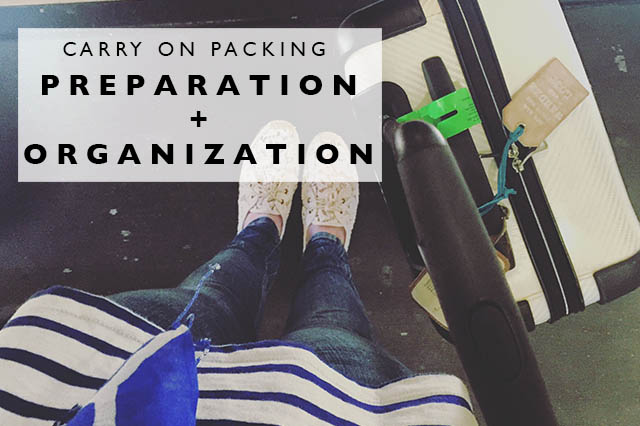 As we're preparing to head to Europe next week and we're busy getting everything ready to go, I thought it was time to do a whole series on packing for travel!  So all this week, we'll be talking about how to travel for 10 days all in carry on luggage.  So stay tuned for tips, tricks and tried and tested solutions for carry on packing!  
The first and perhaps most important part of being able to travel for 10 days to Europe with only carry on's is to prepare and organize.  I actually start this process weeks in advance and never leave packing until the last minute, mostly because it stresses me out but also because there is no way you can be totally organized when you're just throwing things in a suitcase at the last minute.
So here's how I prepare and organize before I pack for a 10 day trip:
Start collecting outfit ideas weeks prior to your trip.
A few weeks before we're due to travel, I go through images I've saved on my computer or on my Pinterest boards and make a folder of outfits I like for a specific trip.  This helps me to visualize what my looks will be for certain places and helps me wrap my brain around what I might take.
About a week before your trip, lay out all your outfits on your bed.  
Generally about a week before our trip, I'll take out all the clothes from my closet that I'm thinking of taking that match my outfit ideas that I've collected.  I lay them all out on my bed and lay them out outfit by outfit so I can see how many I have.  At this point, I always go through and try to match similar colors that go together as well.  So for instance, if I have a heavy navy blue theme, I might try to go with more blues than blacks so that everything will match and go together.
Try on all the outfits you laid out.  
After I have all my outfits laid out on the bed, I then go through and try them all on.  Once I find a look I like, I'll take a picture of it so I can remember exactly which items went with what.  I often find at this point that sometimes what I think I want for a certain outfit ends up changing when I try it on, so better to do this before you leave than later on!
Take another look through and discard any repetitive items.
Once I've tried everything on and I've settled on my outfits for however many days and I nights I need, then I go back through and see what I can weed out.  Sometimes I'll start with double the amount of scarves that I end up taking, or I'll start with 4 pairs of shoes and narrow that down to 2.  Go through and see, what can I live without and what has to stay.  At this stage, I usually discard about 1/3 of what I had out.
Fold everything and set aside for a day.
Before packing, I like to fold everything I decided on packing and let it sit out for a day or two.  I might be waiting to see what the weather forecast looks like or maybe I'll change my mind on a particular outfit, so it's nice to leave it out and think about what you're packing for a day or two.