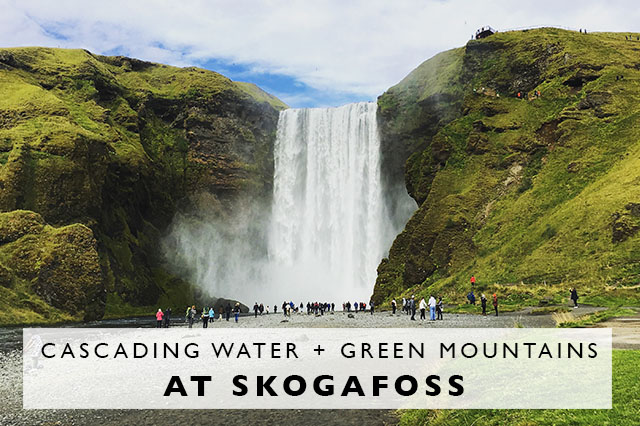 Skógafoss is a well known massive waterfall about 20 minutes West of Vik and it was the top priority on Nick's list for this particular trip to Iceland.  We decided to wait until late afternoon/early evening to make our stop here, both to try and stay away from the hoards of tour buses in the area as well as to get softer light for photos.  When we arrived around 4pm, the light was softening and the tour buses were leaving.  We pulled up right in front of the parking lot and wandered up to see this gorgeous waterfall.
You can also climb up and see if from the side and top, but we opted for the ground views to really take in all its glory.  As the water cascades down, the cliffs next to it are sprayed with water, keeping it endlessly green.  For a waterfall stop, Skógafoss is truly one not to miss.
Headed to Iceland?
Check out our Iceland Travel Guide in the Land of Marvels Shop for only $5!