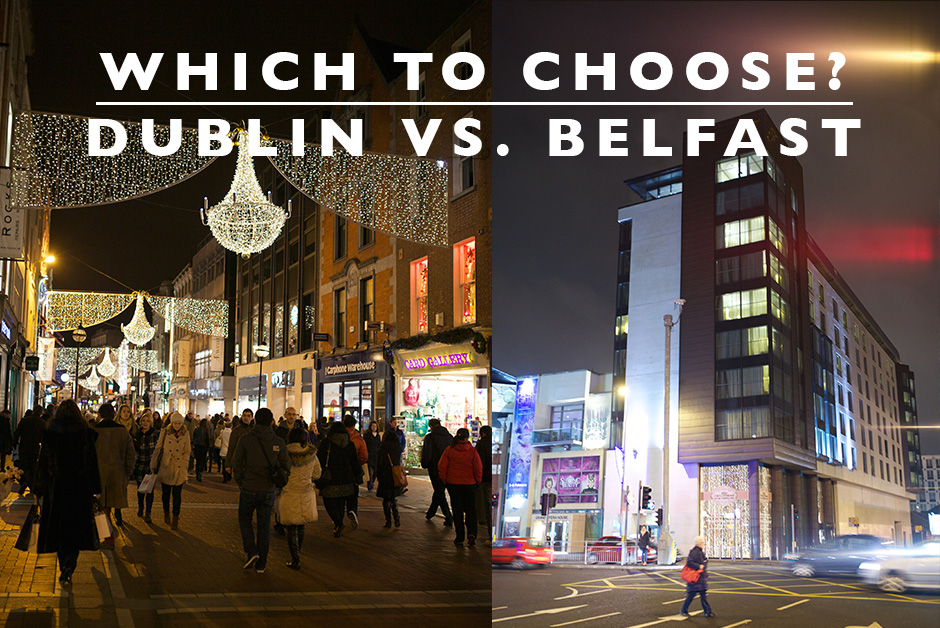 I often get the question, if you had the choice to travel to place A or B, which would you choose?  Or do you think I'd like place A or B better?  And to answer that question, it really depends on the destinations you're looking at choosing between.  There are some cities that many people try to choose between if you only have one opportunity to head somewhere so if you end up having to make that choice, here's how I'll best help you decide in this new Land of Marvels series.
So, you're headed to Ireland and the UK and you're wondering if Dublin or Belfast would be a better choice for you to explore the best of Northern and Southern Ireland?
Well… both are great options to get the best of Ireland, but if you can only pick one, here's my best information to help you choose!
Choose Dublin if you…
Want to see the landmarks of Ireland – Dublin is famous for its Irish landmarks like the Temple Bar and the Guinness Headquarters.
Like colorful buildings – you'll wander the streets full of colorful buildings to your heart's content!
Want tiny cobblestone streets – there are parts of Dublin that feel more like a tiny little Irish town than the capital city.
Want to get out of the UK – Since Ireland is part of the EU but not the UK, you can use Euros and be out of the UK while experiencing Dublin.
Want to explore Ireland – If you're looking to explore more of Southern Ireland, then Dublin is your best choice!
Choose Belfast if you…
Want a city that's got a little edgier of a vibe – Belfast is definitely edgier than Dublin, but I think that has a lot to do with its history which has its own draw.
Want to stay within the UK – Since Northern Ireland is part of the UK, you'll be staying within the UK when traveling to Belfast.
Want to explore Northern Ireland and the Giant's Causeway – Northern Ireland has so many incredible places to explore including the Giant's Causeway.  If you are interested in exploring more of the Northern Irish countryside, then Belfast is a great base!
Are interested in learning the history of Northern Ireland – With so much history in this part of the country, you'll be able to learn so much about Ireland and the UK in Belfast.
Like a more metropolitan feel – While Dublin feels a bit more like an old European town, Belfast feels much more like a metropolitan city.