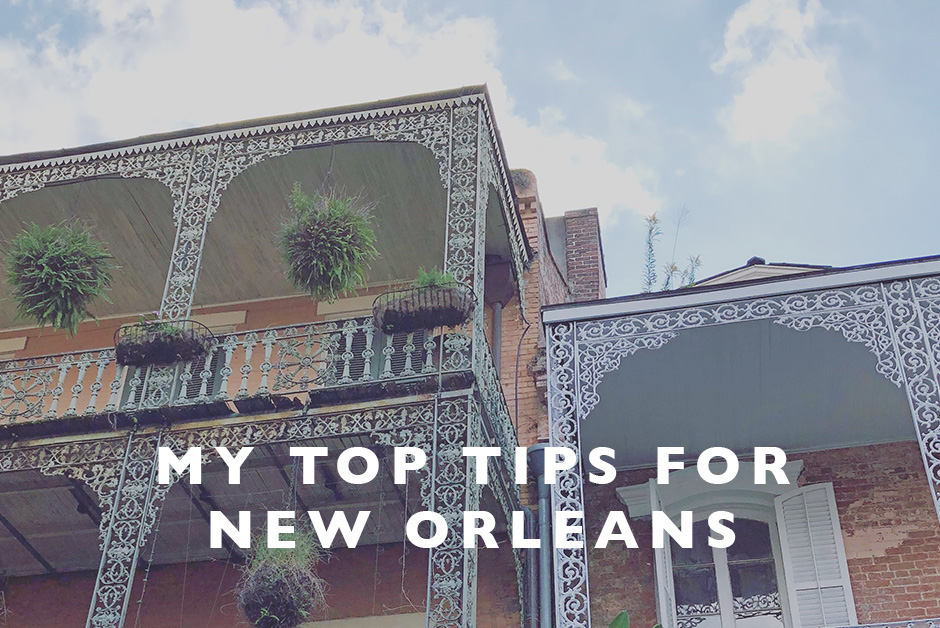 We just got home last week from our second trip to New Orleans and after a horrendous trip there the first time five years ago (seriously, it included a tornado warning, massive rain with hurricane force winds and the whole city smelling like beer), I'm happy to say that I actually really loved the city this second time around.  Our first trip was a mess due to a number of factors, some our fault, some out of our control, but either way, on this second trip, I think I finally figured out the secret to this ages old city and how to really fall in love with it.
Let me preface this by saying, I'm not a big drinker or partier, so that part of the city's culture is not important to me.  In fact, we made it a point to avoid Bourbon Street at all costs.  So if you're heading to the city to party, this post probably isn't for you.  If you want a more cultured approach to NOLA, here are my best tips for New Orleans and what I wish I had known the 1st time around.
The weather is going to be hot and humid – pretty much any time of year you go.
When we went the first time to New Orleans, it was over Christmas, so end of December.  As a young and naive traveler at that point, I packed trench coats and scarves and boots.  It was December after all!  And for me, even when the temperatures said they would be in the 70's, I figured that would be fine. Long story short, I was drenched in sweat the whole time due to the humidity.  Fast forward all these years later and I'm more aware of weather in different parts of the world.  This time, I packed t-shirts and skirts and was still drenched in sweat, but I was definitely more comfortable than the first time.  Regardless of what time of year you visit, it will probably be hot and sticky – so dress appropriately for that type of weather or you'll be miserable.
The French Quarter is beautiful – but also very touristy.  Explore more on the outskirts.
In all honesty, the first time around, I HATED the French Quarter.  But also in all honesty, the first time around, I had these grand expectations of what the French Quarter would be – pristine old buildings with ornate details, clean streets and a magical feeling.  In reality, the French Quarter is none of those things.  It's literally falling apart around you, the streets are dirty in most places and people are yelling as they carry their alcohol around.  But, if you can find the spots within the French Quarter more on the outskirts toward Marigny and down near Royal Street, you can get the best of the French Quarter architecture and charm as well as a quieter atmosphere away from the party streets.
My favorite area is down near Ursuline and Royal, where you get the old world buildings of the French Quarter but no one is drinking and most of the people you'll see are locals.  Here you'll also get a more pulled together feel where the buildings aren't looking like they are falling down around you.
Rent a car and see more of Louisiana.
We didn't have a car our first time around and after having one this time, I would definitely recommend it.  We got one because at the end of our trip, Nick had a work meeting in Baton Rouge (about an hour and a half from New Orleans) but we were able to drive around and see more of the city and the state of Louisiana because of it.
Visit during the week.
We arrived Sunday night this trip into New Orleans and even Sunday night was pretty crazy in the Quarter.  Monday however was a different story and I would highly recommend visiting the French Quarter and New Orleans during the week instead of over the weekend.  It's quieter, cleaner and generally just more pleasant if you aren't coming to party.
NOLA is not like France.
One of the biggest issues I had the first time around is that because I love France so much, I was expecting New Orleans to be very "French."  And while yes, the streets names are in French and much of NOLA's culture originally came from the French, in reality, it's definitely more "French-inspired" rather than full on French.  NOLA is a culture all its own and while the French influences are apparent, realizing that it's a totally different culture is an important distinction.
Headed to New Orleans?
See more of our New Orleans content here!