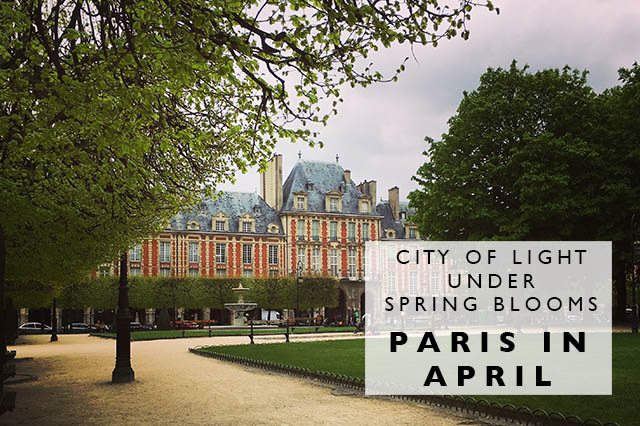 Paris… oh lovely Paris.  The French City of Light is one of those places for me that just completes me, it fills a part of me that no where else in the world really can.  When Nick and I got married and honeymooned in Paris, we vowed to try our best to return at least once a year because we both love it so much and since then, we've been able to work a few days in Paris into our yearly trips.  Though this last time around, it ended up being more than a year and half between visits to the French capital and so when we landed after a long trek from the West Coast of the US, we both breathed in a huge sigh, relieved to be back in one of our favorite cities for a few days and to take in everything that Paris has to offer.
I've said it before, but Paris is one of the only places in the world that I completely feel myself, where I can wander the streets and feel completely at ease.  It's a place that just speaks to me, a place that calms me, a place that holds so many amazing memories.  It's a city that evokes so many amazing feelings, that seems to fit with my personality, with my dreams, with my complete self awareness.  And this time around, it was our first visit to Paris in April (after previously seeing the city in March, July, October and November), so we got to experience the full extent of Paris under Spring Blooms.
Paris in April truly is a special time to visit the city and with blankets of Spring flowers blooming from Notre Dame to the Jardin des Plantes, we spent much of our trip this time around just wandering around enjoying all that Spring in Paris has to offer!
If you're in Paris in April, don't miss these spots for the best views of Spring Blooms:
-The back square behind Notre Dame and the trees along the Seine side of the church.
-The Jardin des Plantes, in the same area as the Natural History Museum.
–Jardin du Luxembourg – While this park is gorgeous with flowers in the early Summer, the beginnings of blooms were just popping up in the gardens here.
-In the beautiful Place des Vosges, the early Spring greens were in full view in April.
Headed to Paris?
Check out our Paris Travel Guide in the Land of Marvels Shop for only $5!