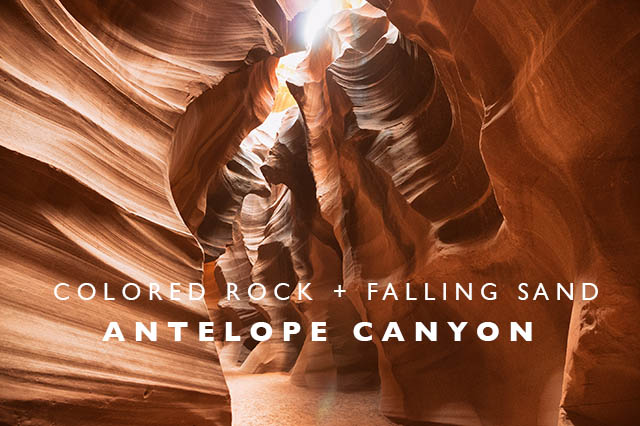 I've been waiting a long time to see the intricate and beautiful Antelope Canyon in Northern Arizona and when we decided to make it the focal point of our trip to the Sedona Area, I was really intrigued to see what it really was like in person.  I've seen all the photos of this slot canyon and I wondered if it would really be worth it, would it really seem as magical in person as it looked?
Long story short to answer that question… yes, yes it does.
This slot canyon, named after the herds of antelope that used to migrate through here (they don't anymore due to weather pattern changes), is truly an amazing work of nature.  Located on Navajo land just outside of Page, Arizona, this canyon is only accessible by hiring Navajo guides and if you're interested in visiting, I lined up how to visit this amazing place here.  While we visited in February, the famous shafts of light that radiate into the canyon weren't visible yet… those are best seen in June or July.  But truthfully, that's peak tourist season in the area and I can't imagine the canyon being even more crowded than it was when we visited in the morning in off season… so I guess, you pick your choice: seeing those light beams the canyon is famous for but being swarmed with people or experience no light beams and less people.
Truthfully, when you get into the canyon, I was a little blown away.  At first, I was trying to take it all in, trying to figure out how the Earth can create such majestic landscapes.  At first, you're overwhelmed.  Then you start picking out the little details, like the crevices in the side of a vertical wall, or the way the canyon walls change colors with the changing light – reds to purples to blues.  Or the way the curvature of the walls echoes a painting, a fantasy landscape more reminiscent of Lord of the Rings than Planet Earth.
Half way through our tour, the rest of the photographers were snapping away and I planted myself in the red sand, under an alcove of the canyon and just sat there, stunned and in awe of my surroundings.  It's places like this that truly make you in awe of our world, of this planet that we call home, of what time and thousands and thousands of years can create.  Antelope Canyon is one of the most stunning places I have ever seen in my life, a place that not only explains the spirituality of the Navajo people in the area, but will leave you in wonder of all that this world can offer.
Nick also posted a blog post on his site about our day at Antelope Canyon which you can read here if you're interested!