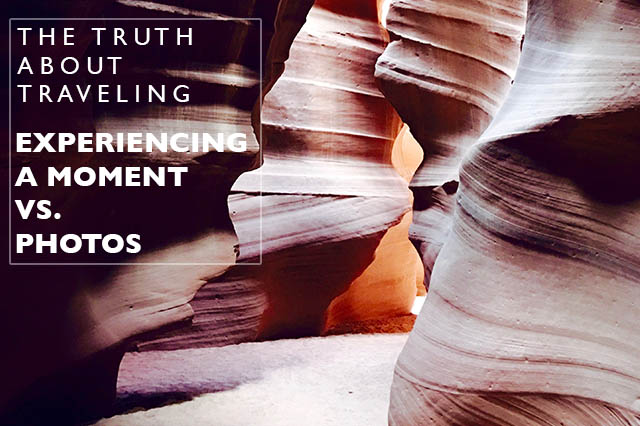 I've wanted to see the ever-increasingly famous Antelope Canyon for a long time.  It's been at the top of our travel list for years, so when we finally booked our trip to Sedona and Northern Arizona, we knew it would be our top destination for the trip to see the incredible slot canyon just outside of Page, Arizona.  And yes, it was amazing.  And yes, it was unforgettable.  And yes, it was magical.  But… if you're headed to this amazing place (and others like it), it's important to stop and remember there is a difference between really seeing it through your own eyes and that of a camera lens.
Let me back up and explain.  If you read my post last week about how to visit Antelope Canyon, you'll know that we booked photographer tours because we had heard good things about that versus just the regular tours.  And both of us were required to have a tripod and mirrorless or DSLR cameras for that tour.  So when we finally got out of the truck and entered the canyon, our guide was furiously shuffling us around to get us the best photos, the best light, the best views.  And he was amazing (Roman from Adventurous Antelope Canyon Tours) and for Nick, this was so great because he was able to get some incredible shots of the canyon that wouldn't be at all possible in the regular tours.  But here's the thing, after a while of me following the lead with other photographers, I found myself not really enjoying the actual canyon itself, not remarking at how incredible it looked in the different shades of light or how the striations on the side of the walls were incredibly ornate.
So I stopped taking photos.  I folded up my tripod and I found myself a spot under the rims of the canyon walls, in the red clay sand, and I just sat down.  I forgot about the other photographers shuffling around me and I just looked around me.  In the shuffle of it all, I had almost missed what this beautiful and spiritual place was all about.  It's also why I have mixed feelings about this incredible slot canyon becoming so commercialized and highly visited because ultimately it will ruin the allure of what it once was, a place of deep spiritual ties to the Earth.
This entire area of Northern Arizona is incredibly magical and it's easy to understand why the Navajo (who live in that area) are really spiritual people.  But as I sat in my little spot in Antelope Canyon, against the canyon walls, looking straight up as the tiny slivers of light fell into the slot opening, as the walls changed from purple to red to shades of blue.  I watched as the tour groups wandered through shouting in all different languages and the photographers snapping away at angle after angle.  And I just took it in and I'm so glad I did.  As a traveler, I'm completely of the belief that we must "feel" a place, we must sense what's around us and we must really see what's in front of our cameras.
So the next time you're somewhere amazing, when you're exploring near or far, remember that experiencing a moment vs. photos of that moment are two very different things.  Remember that the world is meant to be seen with our own two eyes, without a camera in front of it.  And for me, sometimes it takes a little crevice in a slot canyon, sitting in the red sand watching everything go by to understand the meaning of really seeing something.