When I was searching for where to go for our last night in Las Vegas on our Foodie Weekend, I wanted some place that would be very unique to Las Vegas and somewhere that we could splurge a little.  Mizumi ticks all those boxes and made for a really memorable final meal of our trip!
LOVE
Design + Aesthetic – The inside of this restaurant is over the top in the very best way.  First of all, it's all red, everywhere.  Then it looks out over this gorgeous pond and waterfall and feels so very Vegas but in a very fun way.  It's upscale and completely over the top at the same time.  If you're looking for a nice high end dinner spot that wouldn't exist anywhere other than Vegas, this is it.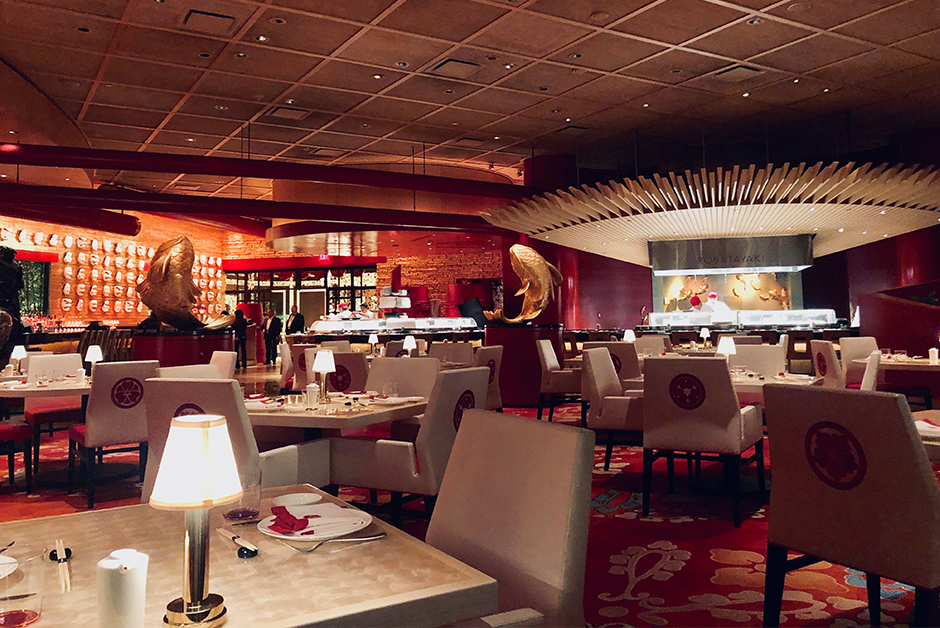 Amazing Food + Sushi – Our food really was sensational here.  We ordered everything from sushi to wagyu dumplings and every bite was so delicious.  If we went back in the future, I honestly might just order a bunch of their sushi as it was some of the best we've had.  But they have a lot of other Japanese foods other than sushi too so even if sushi isn't your thing, there are a lot of options.  We also tried their Robata platter which included meat, fish and vegetable skewers cooked on their Robayaki style grills and that was great too so there's something for everyone.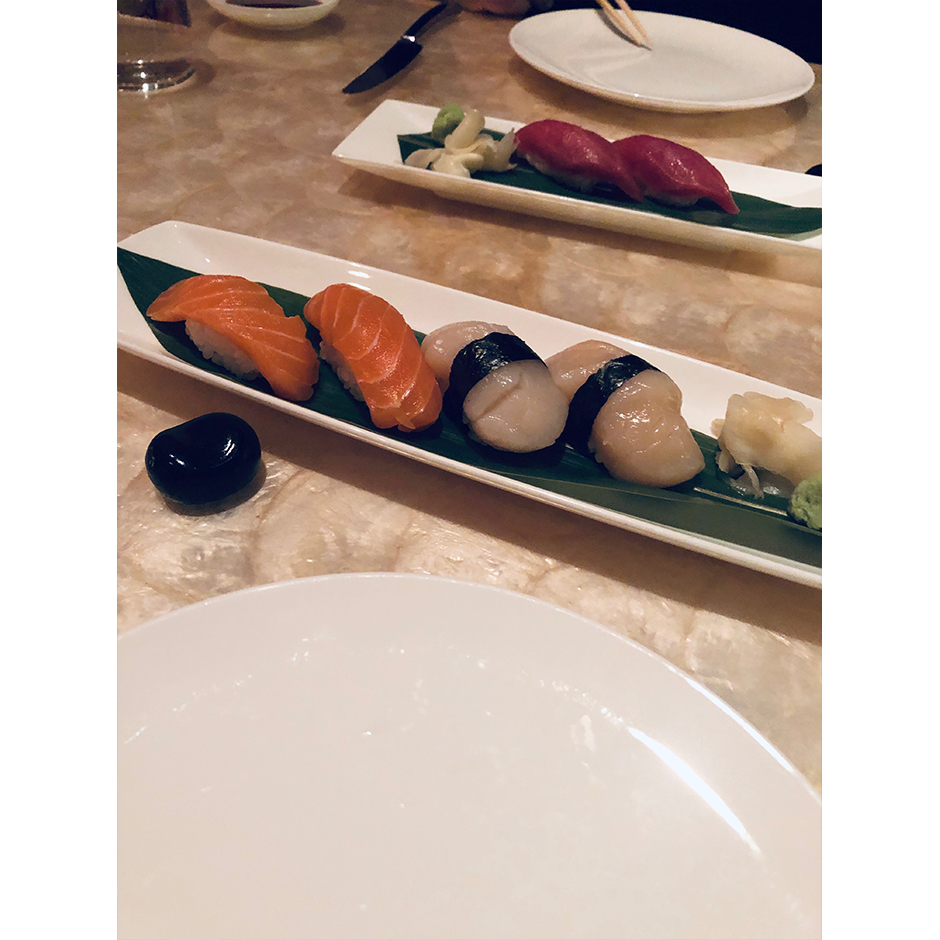 Best Cocktail of my Life –  I'm not a big cocktail person and usually will just order a glass of wine if I'm going to have a drink with my meal but I decided to try their Pear Cosmopolitan and no joke, it was the best drink I've ever had.  I'd honestly go back to Mizumi just for that cocktail, it was that good.
Service – The staff was amazing and so diligent to make sure our meal was perfect.  Everyone from the hostesses to our server were wonderful.
DIDN'T LOVE
Nothing!  Everything was incredible, start to finish.
NOTES TO KEEP IN MIND
Right at the Entrance of the Wynn Hotel– We weren't sure where the restaurant was located and wandered around the Wynn a bit before hand, but it's actually located right off the main entry of the hotel right near Registration and is easy to find.
Expect to Splurge Here – We knew going into this meal that it would be our splurge meal of our foodie trip and so we weren't shocked at the prices.  You're definitely paying a decent amount for a meal here.  To give you an idea, with tip, our meal ended up being about $300.  That included cocktails, a hearty meal of sushi and several other dishes like wagyu dumplings, edamame, Brussel sprouts and their Robata platter, as well as dessert.  For the quality, we didn't feel like that was that over-priced but just know it will be a more expensive dinner during your time in Vegas.
Get an early Reservation for a seat right next to the window – We were part of the first seating as we eat pretty early normally but it actually was really nice because we got a table right next to the windows looking out over the pond and waterfall outside.  Get a reservation here and you'll mostly likely get a better table.
Headed to Las Vegas?
See more of my content on Las Vegas.