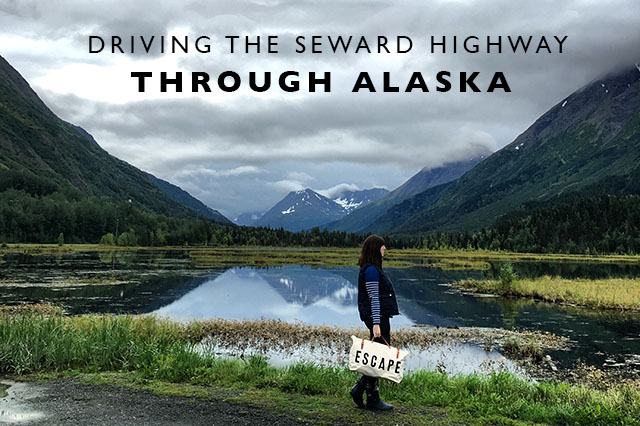 Everyone told me, before our trip to Alaska, that the drive from Anchorage to Seward is one of the most beautiful in the world.  And now, after driving it myself, I can honestly say, they are right.  I had no idea there was so much beauty in Alaska and was constantly blown away by the sheer awe we were in as we drove through (a very tiny part of) the state.  Alaska is huge and there is so much to see that has been added to my ever growing list, but for this quick trip, we only had 1 day to explore so we chose to drive from Anchorage to Seward and stay one night there.  Our main reason for choosing Seward as our destination – a glacier and wildlife cruise that leaves from there.  But this drive on the Old Seward Highway was breathtaking at every turn, from the fjords to the mountains overlooking crystal clear lakes to small ponds with lily pads and fireweed growing in bundles, Alaska is truly one of the most beautiful places I've ever seen.
We left before dawn to head to Seward from Anchorage and though it ended up being a pretty cloudy day, the views were stunning the entire time.  My favorite part was the first 45 minutes outside of Anchorage as you drive along the stunning fjords, as the clouds and the pre-dawn light lit up the surreal landscapes.  And along the rest of the route, we stopped as much as we could at every breathtaking view, at every incredible landscape.  After all, with the crazy beautiful landscapes in store for you on this drive, you can't help it but pull over every 10 minutes to take in all the beauty around you.
PS – I bought this amazing bag in the photo above from my dear friend Abby's shop, Farm | House Market before our trip to Alaska and it was so gorgeous I couldn't help but include it in a few of our shots while driving the Seward Highway.  I got a lot of questions on social media about the bag, so if you're interested in it, here's where to get it!