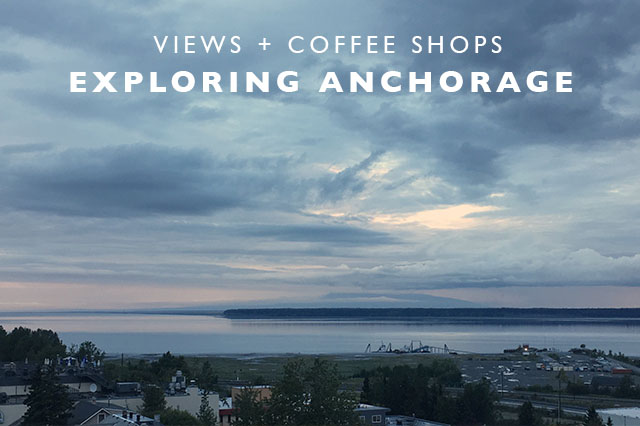 We booked our trip to Alaska about 2 weeks before we left and while sudden, it ended up being a place we loved!  We had actually been looking into heading to Alaska next Spring and it's been on our list for a while, but when Nick's work really wanted him to head up to their office in Anchorage, we booked flights and headed North earlier than expected!  For the first couple days, Nick was working out of his office there in Anchorage, so I had 2 days to myself to explore Alaska's biggest city.  While I spent a good amount of time working from my laptop in coffee shops around the city and from my hotel room, I also really tried to get out and explore a little and I'm so glad I did!  I ended up really enjoying my time exploring Anchorage and could honestly see us having a small second home up there at some point in the future.  The city was totally beyond what I was expecting and it had a really unique charm all its own.  The best way to explore downtown Anchorage…. on foot!  I loved wandering the city and taking it in and I can't recommend it highly enough.
My Anchorage Recommendations:
-Wander down the Tony Knowles Coastal Trail along the water.
-Eat at Ginger for a nice dinner.
-Grab a reindeer sausage for lunch at any of the numerous carts around the city.
-For coffee or a place to work, head to Kaladi Brothers Coffee for a caramel latte and great wifi.
-Get out of the rain with amazing hot chocolate at Steamdot.
-Enjoy the best cinnamon rolls of your life at House of Bread.