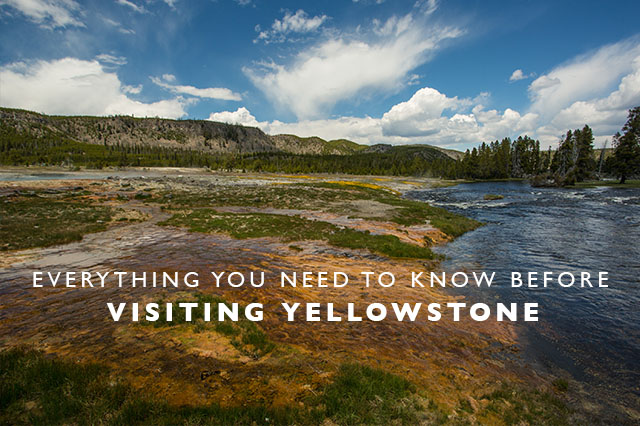 Happy 4th of July to all the Americans out there!  And what better way to celebrate our national holiday with a post about an American landmark – Yellowstone! So if you're headed towards this famous US landmark, here's everything you need to know before visiting Yellowstone!
I wasn't sure what to expect at Yellowstone National Park, and while Nick had been as a kid, neither of us really had any idea what we'd think of our time there.  We had two days in the park and afterwards, I can say that we definitely learned a lot about this famous National Park.
Go early.
One thing we found on our first day when we went into the park mid-day, it's a way better plan to go super early and leave around mid-day.  The tour buses and vans full of people between 11am and 3pm were a little chaotic and it felt like Disneyland at a lot of the famous spots.  We found it was way better to get up early and be in the park for sunrise and stay until around 11am or Noon, then head out of the park when it's the busiest.
You'll be driving a lot.
I didn't quite realize how expansive Yellowstone is and how far each of the famous spots are from each other so expect to be driving a lot.
Signage isn't great so bring a map.
The signage in the park isn't great and doesn't call out everything you might be looking for, so be sure to bring a map.  There also isn't cell service in most of the park, so a paper map is a must!
There are lots of bison but other wildlife is harder to find.
Bison are everywhere in the park and while the first few times we saw them I got super excited, after awhile, we ended up saying "oh another bison."  We had high hopes of seeing other wildlife and headed to the areas where people suggested we'd see some, but we didn't find much else.  I think to see a lot of the wildlife in the park, a tour specifically for that might be your best bet.
Parking lots get really full.
There is not nearly enough parking at the main spots in Yellowstone considering the tour buses take up a ton of it, so people were parked way down the road from the main areas.  We found it was faster to park on the road and walk in rather than sit for 10 years in the very crowded parking lots.
Be prepared to walk after parking.
At the main spots, be prepared to do quite a bit of walking once you arrive and park.  For example, the Morning Glory Pool that's at the area around Old Faithful is a solid 2-ish mile walk back in there which we weren't expecting.  So where clothes that you're comfortable walking in.
Wear layers.
The weather in Yellowstone can range from really cold to really high in one day.  Our days in early June started out really cold, in the high 20's and got up to the 80's during the peak of the day, so layers are key to stay warm in the morning and then shed them as it gets hotter.  Also wear lots of sunscreen as you're out walking a lot and the sun can be quite strong.