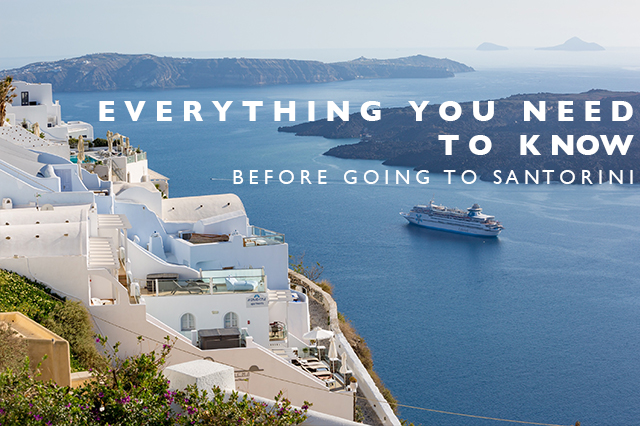 Our trip to Europe in April was a whirlwind, visiting 4 different countries and when we booked it, I really wanted a destination at the end of the trip that we could just relax a bit.  Santorini has always been lingering on our travel list and so we figured it would be the perfect stop over for a bit of relaxation at the end of our travels.
In truth, it ended up being our least favorite spot on the trip, for a number of reasons.  Overall, I felt it wasn't very genuine, in that I didn't really feel like if tourists didn't come to the island, it wouldn't really look like it does.  I was also a little blown away by how just a few feet away from the tourist areas, the island is literally falling apart and overrun by garbage.  Maybe this was just our experience and maybe just how we explored the island, but it's not a spot I think I would return to in the future.  In an effort to be completely transparent and honest here on Land of Marvels, I think it's important to be open about our experiences while traveling.  And while I'm not sure we'd return, this famous island is still pretty incredible to see in person as it's known world-wide.  If you've always wanted to visit this famous Greek Isle, here is everything you need to know before going to Santorini!
There are basically 3 main towns: Fira, Oia and Imerovigli.
When you look at Santorini, there are basically 3 main towns around the crescent shaped caldera of the island.  The town of Fira is the capital of the island and a busy tourist hub.  Oia (pronounced "ee-ya") is the town that you always see the typical Santorini photos of.  Oia is where the famous windmills are and the hillsides that you always see photos of.  Imerovigli is a small, more local town, situated between the two others.  There are definitely other sections of the island, but for tourists, these are the 3 main towns you'll probably frequent the most.
It's kind of a pain to get around the island.
We stayed in Imerovigli, which is located about 20 minute walk from Fira and about a 25 minute drive from Oia.  One of the things that I didn't like about Santorini was how hard it was to get around if you don't want to rent a car.  To walk, there are no sidewalks in many areas along the main roads.  To get a taxi, it's not an easy task.  In Oia, we spent an hour wandering around trying to find the taxi stand which was not easy to find.  Then when we finally found it, we had to call (thank goodness we had added cell service for our phones while traveling) for a taxi to come get us, which then took another 20+ minutes.  I felt like for a destination with so many tourists, they don't make it very easy to get around the island.
Now if you're going and just staying at your hotel, then I guess it wouldn't matter.  But we wanted to explore a little and it wasn't very easy without having to rent a car.
Don't flush toilet paper.
One of the things that I found strange on Santorini, at least in Imerovigli, was that you can't flush toilet paper.  Now I get that the island is old but for some place that caters to millions of tourists each year, there are plenty of other old places in the world that have been able to upgrade their sewer systems to modern standards.  Regardless it's something to be aware of.
I'm not sure if all hotels are like this or if some of them have their own systems, but this was pretty standard in public areas and our hotel.
It's a resort island and hence, everything is overpriced.
Greece has had a rough go of it lately with financial situations and so I was expecting everything to be cheaper than other spots in Europe.  Not the case at all!  Santorini is definitely charging prices for tourists since it's a resort island.  Food was not cheap, nor were souvenirs or anything else.
Expect to walk a lot.
Whether it's long stretches of walking with caldera views or going up and down the stairs to your hotel, you'll walk a ton on Santorini.  Bring comfortable shoes and strong legs to get up and down those cliffsides!
Traveling to Greece?
See all of my posts on the country!