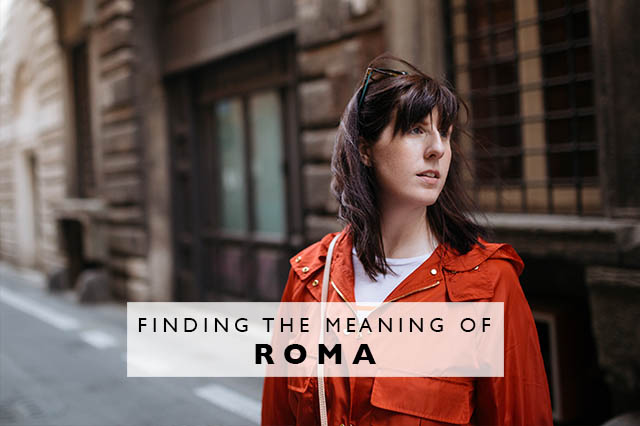 After our first trip to Rome 4 years ago, I was apprehensive about visiting this ancient city again.  And rightly so, sometimes a bad trip can ruin a place for you for years to come.  So when we were headed this direction and decided to re-try Roma, I wasn't sure how we'd react this second time around.
Though, immediately this time there was something different.  We're more traveled, we've seen more of the world since that fateful trip 4 years ago, we've grown, we've changed.  Upon arrival at our hotel, which we loved, and the gorgeous little local area around it, I knew this trip would be different.  And it took all of an hour after arriving, as we were wandering small tiny cobblestone alleys for a place for lunch, that I knew, Roma is special.
From the cobblestone alleyways, to the bright orange buildings, to the shutters seemingly falling off windows.  From the way the light falls in the late afternoon, to the Tiber River splitting the city, from the quiet stillness in an ancient alley, to the energy of the cafes and gelato shops – Rome is a city of magic.  And no wonder, for such an ancient city, just walking the streets in Roma is a right of passage, just seeing the ruins and the ancient Colosseum, knowing all those millions of people who have been there before us, that's an incredible feeling all within itself.
But I think perhaps the most important thing about this ancient city and truly finding the meaning of Roma, is to grasp the energy of the city.  Life in Rome isn't about seeing the tourist sites on tours, it's not about the hords of school kids on a school trip.  It's not about just knocking site after site off of your list, which is not to say that you shouldn't visit and see all the major tourist spots in Rome.  But if you want the true meaning of Roma, it's the long walks without a destination in mind.  It's the long dinners as lanterns light the tiny roads outside.  It's practicing Italian with the waiters and stopping for gelato just because you want to.  It's finding spots along the Tiber to take it all in, to watch the sun set over St. Peter's or to spend hours wandering Trastevere.  The true meaning of Roma is to live la dolce vita, even if just for a few days.  Enjoy the moments, take in the monuments and find the peace in the city that exists behind the hustle of tourists and the selfie sticks.
I promise you, if you can find the stillness in Roma, the quiet energy that buzzes all around in this ancient city, if you can find yourself just wandering for hours down cobblestone alleyways, I promise you'll leave with a magic you can't quite explain, a stillness within you as a traveler, an energy that will live on in your own life.  Roma, and Italy in general this most recent trip, captured us.  We fell in love with that energy, that ancient wisdom, that feeling you can't quite explain.  And after 3 trips to Italy, I can finally say I found the meaning of Roma.