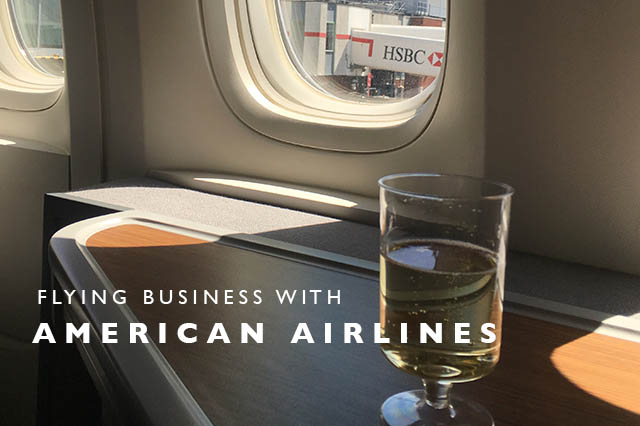 About a year ago, I started looking into ways that we could fly to Europe for our Spring 2016 trip totally on points.  It seemed at the time that the best way and the fastest way for us, would be to get the American Airlines credit card and rack up points for several months.  At the end of the day, our solution allowed us to fly to Europe completely on points in Business class, with fully lie flat seats the whole way and I'm so glad we did it to experience American Airlines and have a comfy ride.  In the end, the routes of American's flights aren't super convenient for us in the Pacific North West and I think we'll go another direction on future flights, but with that said, here is my review of our experience flying business with American Airlines.
What I Loved
The Seats – With lie-flat seats the whole way to Europe and back, it definitely made it easier to sleep and get some decent rest on the plane.  We had two different types of seats on the way there and then on the way back and both were good.  The one on the way back from LHR-LAX was a little harder and less comfortable than on the way from JFK-LHR, but both were really nice and great to spread out and relax.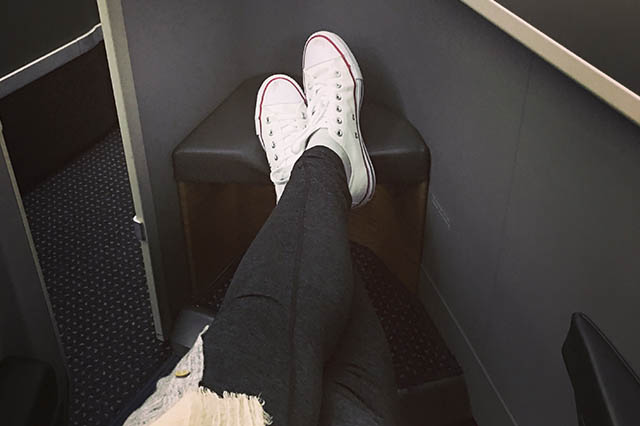 Lots of storage – I loved how much storage for your personal items there was in both types of business class seats, from little netted areas to cabinets to put your small items… it was nice to have that space.
The lounges and early boarding perks – A really nice perk of flying business class, all the additional perks you get as well.  Things like free access to the airline lounges and early boarding are two things that made the trip even nicer.
What I Didn't Love
The Flight Attendants- I found the American Airlines staff overall in every airport and every flight we went through very rude and not helpful.  At JFK on our way to London, the gate attendant was full on yelling and snapping at people asking questions.  On our flights, I felt many times that when we asked for something we were met with eye-rolls and a "put off" attitude.  I barely saw one flight attendant smile our entire trip with American Airlines.  As someone who flies Alaska all the time and they have some of the nicest and kindest flight attendants, I was quite put off by the attitudes I saw from almost all the American Airlines staff we encountered.
The Configuration – While this isn't a huge deal, the configurations of the business class seats were awkward if you're flying with someone else.  There isn't a great way to talk or see your companion with these layouts and to talk to Nick, I usually had to fully get up from my seat and walk to his pod.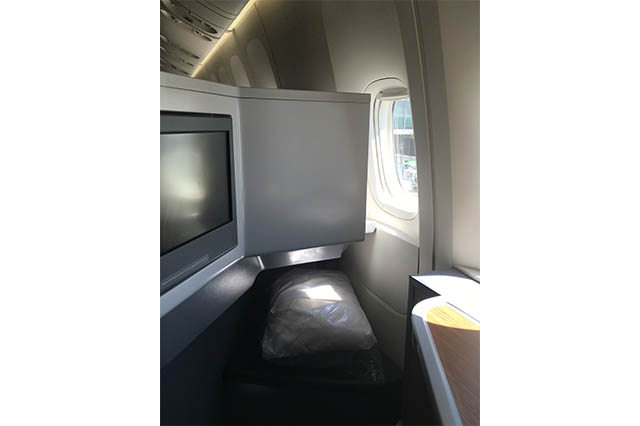 The Entertainment Selection – I was kind of blown away by how little of an entertainment selection was offered on American.  Usually on international flights, they have an incredible amount of movies and TV shows, Delta for example always has amazing selections, but on American, there were hardly any new release movies and their TV selection was minimal.
Notes to Keep in Mind
Look at the Hubs – One thing to note, particularly when flying on miles is to know which hubs American has so you can best select your flight path.  For us, we had to fly Seattle – JFK, then JFK to Heathrow to use miles since JFK is a hub of American's.  We like going direct from the West Coast of the US better, but be aware of where the airline's hubs are so you'll know where you might need to connect.