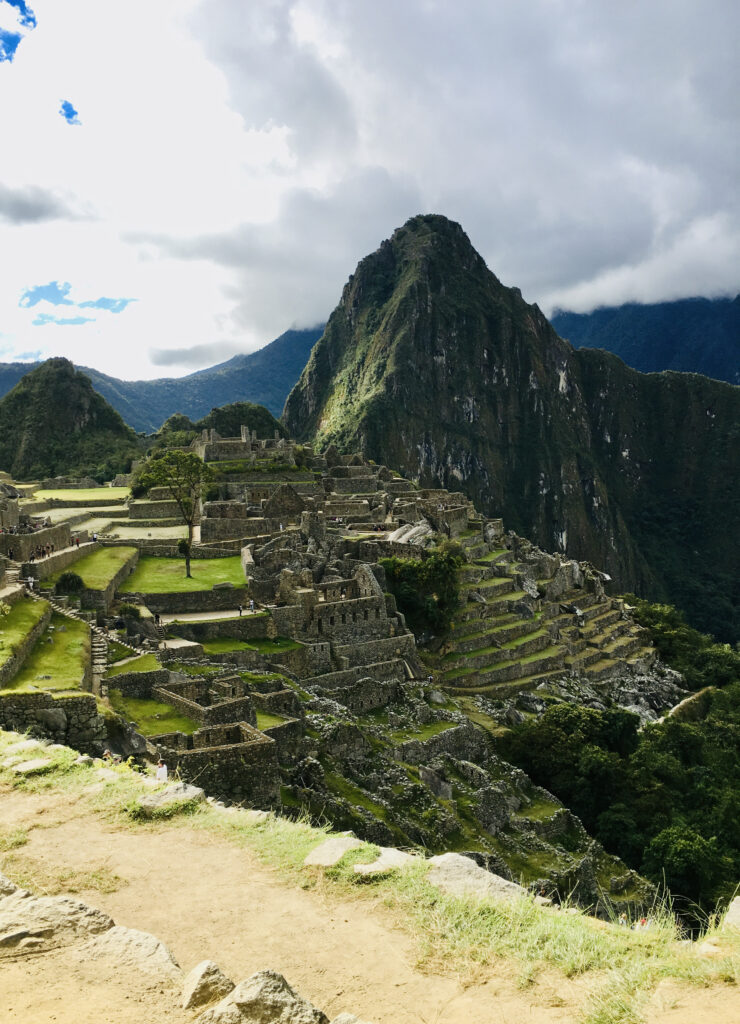 We visited Machu Picchu twice while there, once the day before at Twilight and the second time the following morning at Dawn.  To be honest with you, it's hard for me to pick which I liked better as they were both so magical and so different.  Our second morning there, we were in line to enter the Machu Picchu gates at 5:35am.  The first buses up from Aguas Calientes arrive about 5:55am and even though we were there earlier, within 10 minutes after we arrived there was a huge line behind us full of hikers and people from the buses.  They only let the first 50 people in at 6am and then stagger it out after that, so we wanted to make sure we were first inside for the sunrise.
Nick had scoped out where he wanted to shoot his photos that morning from the day before, so we immediately headed up to the Guard's House at the top of the mountain above Machu Picchu when we went in the gates.  It was dense fog all around us, so dense it was hard to see in front of us at some points.  And the climb was hard!  Not only the altitude but at 6 in the morning and the steep ancient stairs, I had a hard time and had to take quite a few breaks.  I would recommend not rushing this climb as much as we did and taking your time.
Finally we made it to the top where you see that typical view of Machu Picchu.  The fog began to clear, actually it looked like it was almost tearing away, a stunning experience in itself, and the view opened up over this ancient place.  It was a surreal moment, seeing Machu Picchu in the dawn light, in the fog and staring around at this magical place from high above.
After the fog soon enveloped the view again, we climbed even further up to find a whole field of llamas wandering around.  I immediately headed out to make friends with them (how could you not!?!) and spent the next hour petting and talking to Lucy (they had name tags on them).  I told Nick later that while that climb was hard to get up to the top, they should have a sign at the bottom that reads "This climb is really hard but there are llamas at the top so it's worth it."  No doubt, that would make it a whole lot easier!
Finally we headed back down, meandering through the ruins on our way and taking in the sweeping views of the surrounding mountains.  Upon leaving, I took one last look back, knowing that this amazing place will be a place we return to someday again.  Machu Picchu was an experience I'll never forget, a place that truly stands the test of time and exudes an ancient magic all its own.
Traveling to Peru?
See all my posts on Peru!