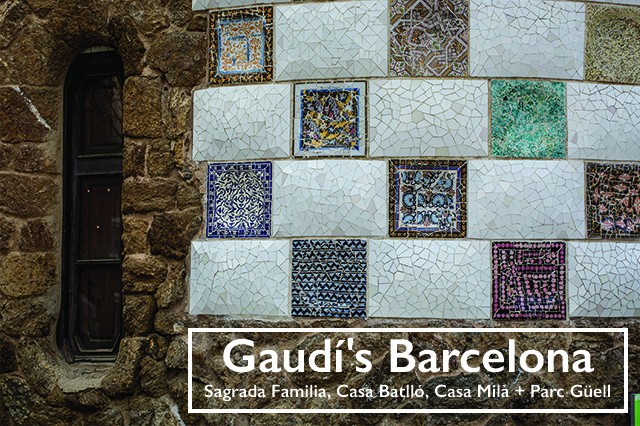 I've been a Gaudí fan for a long time, since before I was in architecture school, since before I changed my major to Interior Design, since before I really even knew design was in my future.  His sense of whimsy in his designs are always inspiring to me, a trait I try to keep in my own designs to this day.  I was always drawn more towards his smaller works like Casa Batlló, but his grand scale on La Sagrada Familia is definitely something to take note of as well and well worth the attention.  I often used him as a precedent concept in school projects throughout college and have always had a soft spot for him among the world of famous architects.
So when we decided on Spain for our Spring trip and added Barcelona to that list, I knew I had to see for my own eyes the work of Gaudí and what he brings to this already fabulous city.  To be honest, before seeing the buildings in their city settings, I had always imagined them to stand out.  The wavy shapes, the crystal tiles, the strange hues, the whimsical iron work, but in all honesty, I now see why he perhaps chose Barcelona as his canvas or perhaps why Barcelona modeled itself within his whimsical confines.  Gaudí's buildings are beautiful no doubt, but they don't stand out per se, in stead they add a different quality to Barcelona's already whimsical style, they offer a genuine bit of history.
I was blown away not by how they stood out agains the backdrop of the city, but because Gaudí seemed to possess a quality that is rare in famous architects today – drawing on the vibe of the place, making a building live both within its surroundings and yet shout out at the same time.  In a world where every building seems to have to be better than the next and stand out more and more against an already crowded skyline, I found Gaudí's Barcelona both inspiring and refreshing.  In the process, my dream of seeing Gaudí's famous works brought a new found respect and admiration for the famous artist.
Don't Miss These Gaudí Spots in Barcelona:
-Sagrada Familia – The lines were long to get into the church, so go early!
-Casa Batlló 
-Casa Milà
-Parc Güell – We took the metro here, but keep in mind, it's still quite a trek from the metro stop up to the Park.  We opted to walk up and take a taxi back to our hotel – totally worth it!
Traveling to Spain?
See all of my posts on the country!