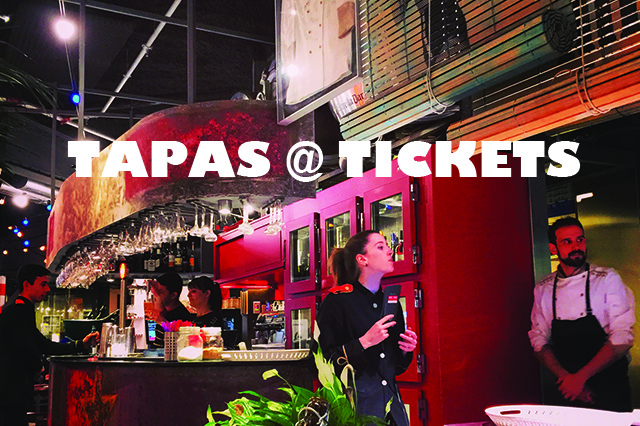 Sometime months ago, Nick saw something about a restaurant called Tickets in Barcelona.  It was a world renowned chef who gave up his popular restaurant for something different, a fresh start.  He then opened a new tapas bar in Barcelona called Tickets, themed like a circus and as it turns out, one of the hardest restaurants to get into in Spain and honestly in Europe as well.  Reservations open a month before and within 10 minutes of them opening, usually every spot is taken.
Long story short, Nick really wanted to see if we could try Tickets while in Barcelona, famous for their unique take on modern tapas.  He logged on their website at exactly the moment of the reservations opening for the day we had in mind and had no luck.  They were all gone by the time he got the website going.  We were disappointed for sure, after all Nick had been talking about it for months.  But here's where this little blog becomes much more than just a blog; I emailed the restaurant, not expecting to hear back, but mentioning my travel blog, mentioning our time in Barcelona and the date were were looking at and after not hearing a reply for a couple weeks, I figured they get so many emails they just can't answer them.  But, low and behold, about three weeks after I sent the email, I received a reply with a reservation for us on the date we had requested.  Granted it was at 7pm, which in Spain is basically the early bird special, but we didn't care, we were in!
Anyways, fast forward a month and we had our dinner at the famous Tickets in Barcelona, complete with their famous "olives" (which aren't really olives at all but delicious all the same), the spicy lobster (my fave of the evening), their tomato bread which was divine, their incredible sangria and their chicken skewers which were to die for, served on sugarcane over a small barbecue.  The food itself was a story, each of the tapas meant to evoke a certain taste, for you to linger on each bite, to eat everything in a precise order as to get the best version of the food experience.
All in all, we enjoyed the theatrical evening, the feeling of exclusivity by being able to experience the remarkable tastes of the tapas at Tickets.  Would I go back?  Yes.  Would I recommend the experience?  Yes.  So whenever you might find yourself in Barcelona in the future, see if you can get into Tickets and don't forget to try the spicy lobster!l
This post is in no way sponsored by the restaurant and in their reservation they didn't mention any need for a review, so as always, all opinions are totally my own.
Photos by Nick Nieto Photography