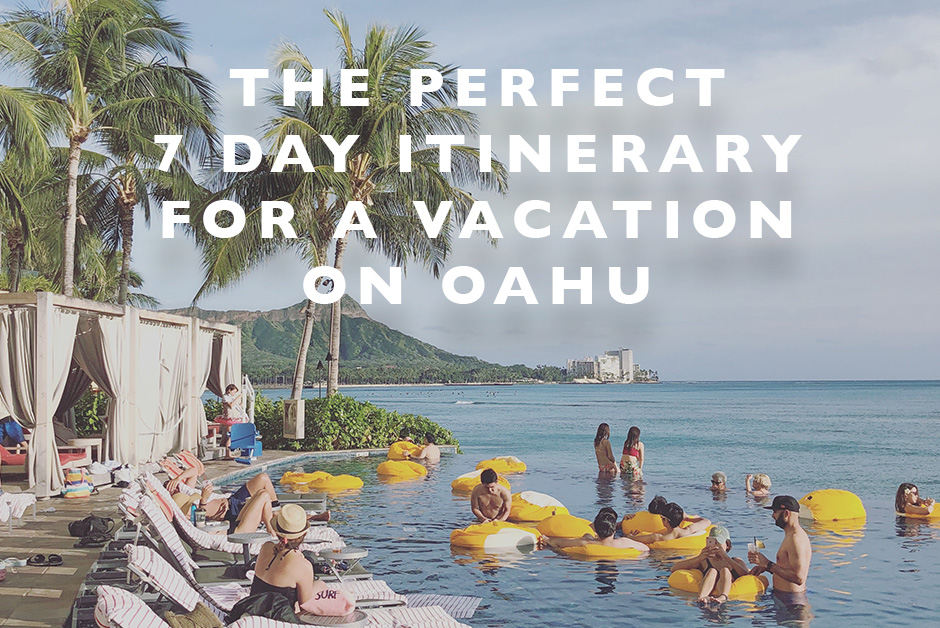 I spend a lot of time in Hawaii and even lived there for a couple years straight out of college.  Most of the time I'm there for work, but during all my countless trips to Hawaii, I also have gotten to really know the island of Oahu and have both the local and tourist perspective views down.  With Hawaii and Oahu in particular being such huge tourist designations, both for Americans and international travelers, I felt it was high time to off you the Land of Marvels recommendation for the perfect 7 day itinerary for a vacation on Oahu!
DAY 1 : EXPLORE WAIKIKI AND RELAX
Arrive in Honolulu! 
You'll arrive onto Oahu at Honolulu International Airport.  From there, I'd suggest renting a car for your week on the island to easily get around.  Grab your luggage and your rental car and head for your hotel!
Check into a hotel in Waikiki.
Spend your first afternoon in Waikiki checking out the area and wandering the many shops and restaurants all along Waikiki's main drag.
In the evening, be sure to catch the famous Hawaiian sun set over the ocean.
DAY 2 – EXPLORE THE WINDWARD SIDE OF THE ISLAND
Start early with sunrise at Lanikai Beach on the Windward side of Oahu, which is about a 45 minute drive from Waikiki. Be sure to make it there before the sunrise time to see the most beautiful colored sky of your life!
After sunrise on the beach at Lanikai, soak up the white sand beach with no one around so early in the morning.  While on the Windward Side of the Island in Kailua, grab a local breakfast of an aca'i bowl from a number of vendors.  Next head back on the ring road back toward Waikiki, making stops for views at the Makapu'u Lighthouse and Hawaii Kai as you go along.
On the way back toward Waikiki, stop for amazing snorkeling at Hanauma Bay or swim with the dolphins at the Hawaii Sea Life Park.
DAY 3 – SHOP YOUR HEART OUT AT ALA MOANA
After a busy first couple of days, use today to indulge in a little retail therapy at the Ala Moana Shopping Center.
Ala Moana houses hundreds of stores, everything from Zara to Chanel… so shop your heart out!
For a light lunch, Rocello's at Nordstroms offers a great view or Honolulu or for a beautiful ocean view, Mariposa's at Neiman Marcus is a fantastic option.
DAY 4 – BRING OUT YOUR INNER SURFER ON THE NORTH SHORE
The North Shore is world famous for its surfing, so jump in your car and head North West on Oahu toward Haliewa.
Stop on the drive out at the Dole Pineapple plantation to take in the history of this famous spot.  Then continue on and explore the historic town of Haliewa and the surrounding surf spots.  Turtle Bay Resort is also a great spot to wander around the grounds and take in some beautiful spots!
A word of caution for North Shore, the traffic on this drive gets really bad, especially at peak times so keep that in mind!
DAY 5 – POOL DAY AT THE HOTEL
You can't miss a pool lounge day at the hotel on your relaxing trip to Hawaii!
So take advantage of your Hawaiian vacation with a pool lounger and a drink with an umbrella in it.
DAY 6 – BE AN ADVENTURER AT KUALOA RANCH
Want to zipline through the Hawaiian Jungle, look no further than Kualoa Ranch.  
Spend a day 4-wheeling or ziplining through the jungle, riding horses or taking tours of movie sets at Kuala Ranch.  And not to mention all the adventures available here, the scenery is unreal!  
You'll need a full day out here, so plan accordingly.
DAY 7 – BEACH DAY IN WAIKIKI
Spend your final day in Hawaii with a beach day in one of the best beach destinations in all the world, the famous Waikiki!
Waikiki is world renowned, so find a spot, put on the sunblock and take in all the beauty of the Hawaiian beaches.
Headed to Hawaii?
Check out our Oahu Travel Guide in the Land of Marvels Shop for only $5!