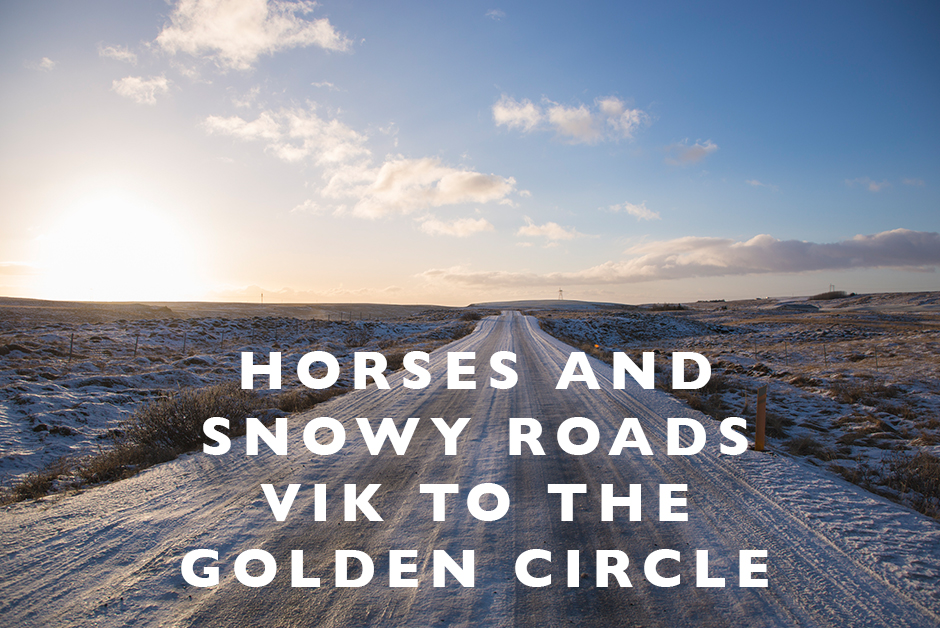 While we had planned on heading East on this trip to Iceland and making it up to the Glacier Lagoon at Joksularon, a huge storm was headed in the day we arrived and closed down the road going any farther East than Vik where we were staying.  We decided to head back into the Reykjavik area a day earlier than planned and to get out of the crazy wind that we were encountering around the Vik area.  And as Icelanders will tell you, you must be flexible in Iceland in the Winter with any travel plans as the roads and situations can become very treacherous very fast.
So we packed up, headed back West earlier than planned and decided to loop through the Golden Circle area which is popular with tourists for our second day's adventure.  It began as a beautiful drive and we made lots of stops along the way at gorgeous vistas and snowy trails, petting horses as we went along and taking in a gorgeous white snowy Iceland.  We came upon a field of horses that were super friendly and I spent a bit of time playing with them and frolicking in the soft snow, while Nick flew our drone for a bit to get some beautiful footage for a future video, so stay tuned for that!  The Icelandic horses are always one of my favorite parts of our trips there and these 3 were so friendly!
Then upon heading to Gullfoss, we took a turn down a road that we shouldn't have and spent the next 40 minutes going super slow on a very icy and sketchy road.  Shortly after we made a quick stop at Gulfoss, a snowstorm picked up seemingly in a moment and we were facing closed roads and a massive storm right over us.  We ended up having to take another route back to Reykjavik and the beautiful white snow suddenly became a very treacherous experience.  We ultimately made it to Reykjavik just fine but for anyone traveling to Iceland in the Winter – be ready for crazy weather that changes in an instant!
Once safe in Reykjavik that evening, we had our hearts set on seeing the Northern Lights.  And while the scale of seeing them was 2/10 that evening, we decided to try it out anyways and headed to the Grotta Lighthouse on the edge of the city around Midnight.  We pulled in to the parking area of the lighthouse and tried to see anything, but when we spotted nothing we turned around and were about to head back to our hotel, when I saw a faint green in the sky and slammed on the breaks.  We ended up going back and spending about an hour there and while the lights were super faint in the sky, we did get to see them after all!
If you're headed on this route, here are a few spots I'd recommend stopping at along the way:
Hruni area of Arnessysla in the Southern Region of Iceland for beautiful scenery
Gullfoss Waterfall
Hveragerdi area for incredible views
There are tons of stops along side roads in this area that are breathtaking so just go off the beaten path and you'll be sure to find some stunning spots!
Grotta Lighthouse for Northern Lights viewing near Reykjavik
Headed to Iceland?
Check out our Iceland Travel Guide in the Land of Marvels Shop for only $5!