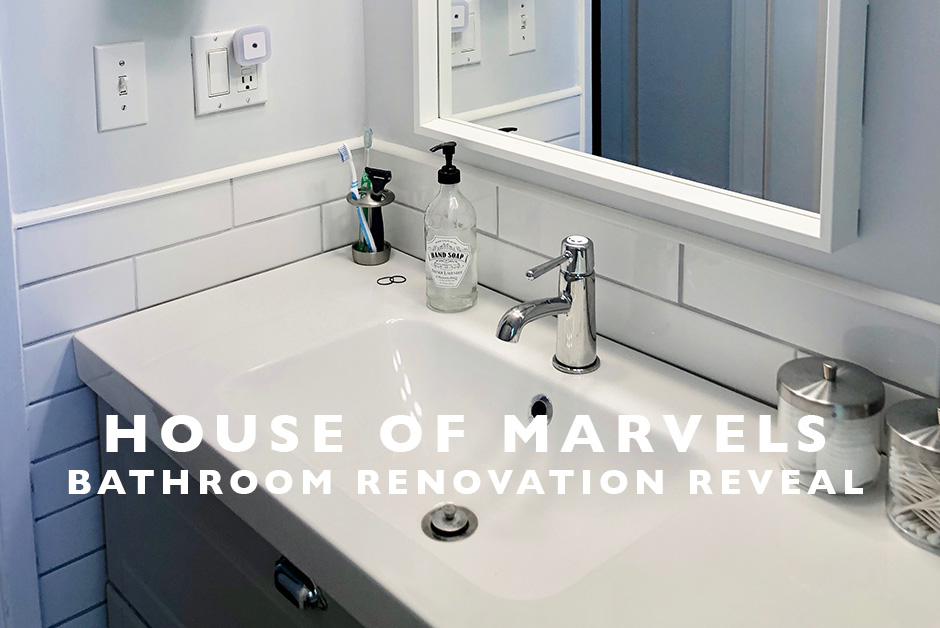 Continuing on with my new renovation series all about our 1925 Dutch Colonial in SE Portland, I'm revealing our renovation of the upstairs bathroom in this house.  The house actually has 2 full bathrooms (which for an old house is pretty rare in this area) and the downstairs bathroom will need some updates eventually but we're waiting to do it when we fully gut and renovate the kitchen in the next couple of years since it's directly adjacent to the kitchen.  But when we moved into the house in August last year, we knew the bathroom upstairs would need to be the first major renovation we'd do.
The Before: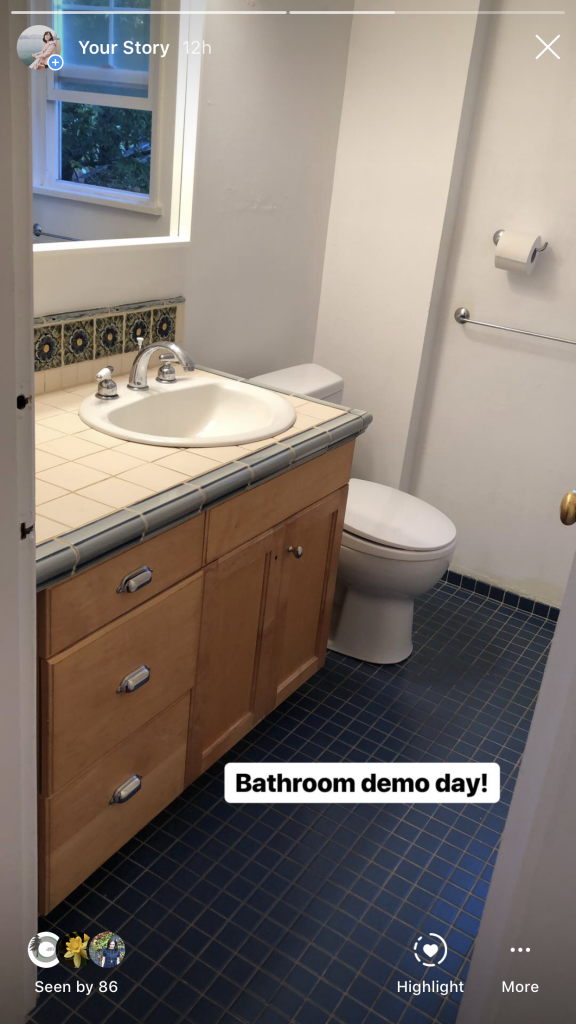 The upstairs bathroom was straight out of the 80's: bright blue tile floor, cedar wood built in vanity and a horrible wooden mirror.  The whole thing was bad and needed an immediate update since this is our bathroom that we use every single day.  In October of last year, we literally demolished the entire thing down to the studs and replaced every single surface in the space.  It was a huge renovation learning experience and a long 4-5 week process.  But in the end, it's 100% better than it was and while there are things I probably would change if we did it again, it's actually a really pretty space.  We did marble mosaic tiles on the floor, extra long subway tiles on the wainscot and in the shower, changed out the toilet and the vanity, as well as resurfacing all the walls and moving the light fixture over a few inches to center it over the sink.  We also have a weird space behind the shower that I salvaged old wood at a local salvage shop which was from a 1930's barn, stained it and then hung shelves for our towels in the crevice.  Now it feels like that was meant for that space and was such a worthwhile project.
This bathroom was our first really big renovation project in the house and we learned a lot of lessons throughout the process but I'm so glad we did it and updated the bathroom to reflect our style but also to modernize the whole upstairs.
*I am linking to some of the decor and furniture items below for each room if you want to know where stuff is from, but none of them are affiliate links FYI.
The After:
The Decor : Ikea Vanity