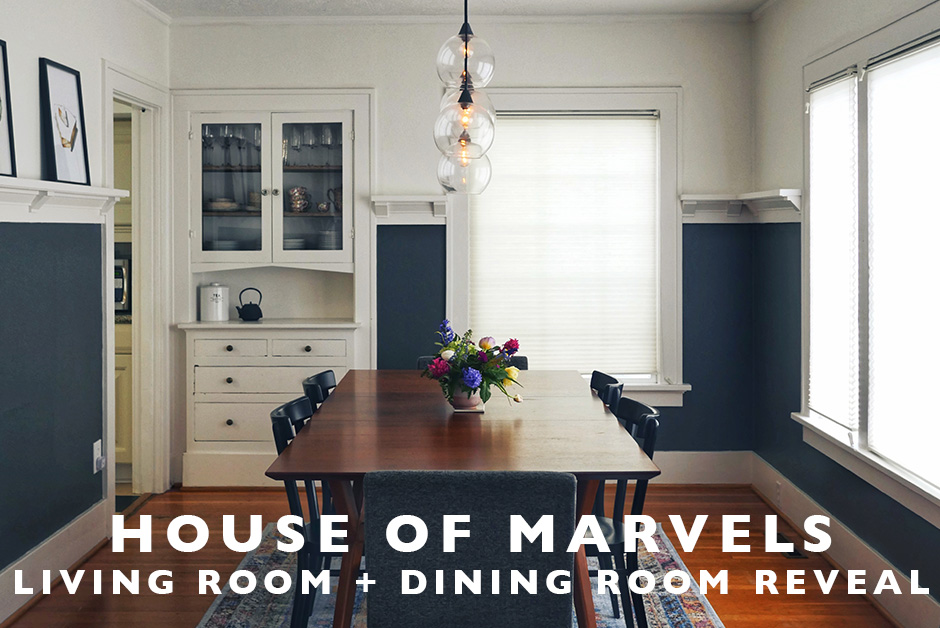 Obviously you've probably noticed that our travel has slowed down a lot as of the last few months and while mostly that's due to me launching a new business, it's also due to the fact that we are knee deep in a lot of home renovations that are on-going.  We bought a 1925 Dutch Colonial house in SE Portland last August and in 6 months of living here, we've already done a lot to renovate and update the house and we still have a long list of projects still to complete too!  I post a lot of our renovation on my personal Instagram stories but thought I'd do a series of posts here on LOM to let you see what I've been up to for the past 6 months when I'm at home, hence the series will be called House of Marvels and I'll share posts project by project so you can see what we're up to!
So a little bit of back story first… this is our 3rd home we've owned but our first true house.  Before this we've owned a one-bedroom condo and a townhouse and we felt ready for a real house to get to renovate when we bought this last August.  I've always had a dream of buying an old house and fixing it up and while ours is actually in amazing structural shape for how old it is, the design needed updating on the interior and the exterior was kind of a mess.  We took on the project knowing it would take a lot of hard work, time and money and I must say, I'm super excited with what we've done in 6 months.  We've got a lot more we want to do in the years to come, but for now, it's really coming along nicely!  So here's a little look into our house and two of my favorite rooms that I'm highlighting today!
*I am linking to some of the decor and furniture items below for each room if you want to know where stuff is from, but none of them are affiliate links FYI.
Living Room
We didn't need to do too much to the Living Room upon moving in as our furniture was perfect for the space and it was already painted white.  I did repaint the brick fireplace, clean it out and fill it with battery operated candles.  It's a wood burning fire place and I personally hate the smell of wood burning, so we opted to leave it operational but we just won't use it while we live here.  Instead, the glow of the candles in the evenings is lovely.  We did have to have some exterior work done to the chimney so that it didn't leak, but other than that, the living room was pretty much just decor.  I bought a new rug for the space when we moved in which adds so much color and warmth and gets so many compliments in person.  My favorite part of this space is the built in bookshelf in the wall, reminding us how old this house is and how much character old houses have.
The Decor : West Elm Sofa similar (we bought ours years ago) | West Elm Armchair similar (we bought ours years ago) | Overstock.com Rug
Dining Room
The dining room didn't need much when we moved in but the old hardwood floors were pretty beat up in here so first thing I did was order a colorful rug to go under the table to protect the floor and add some color.  We have a gorgeous old built-in in this room and it's in pretty good shape except for a couple paint chips here and there and it really brings that old house feel to the space.  It also has a China plate rail in here which adds so much character to the room and it's the molding where in the old days they used to display their China dishes up there.  We did paint the walls in here with white on the top half and a dark gray on the bottom and it gives it such an elegant feel which matches the period of the house.  The last thing we did to this space was replace the pendant light, adding a modern touch to the space and giving it a true dining room feel.  I love this room of the house and since we entertain a lot, it gets used for all sorts of events and so far, it's one of my favorite rooms in the house!
The Decor : West Elm Dining Table (bought years ago) | CB2 Chandelier | Overstock.com Rug