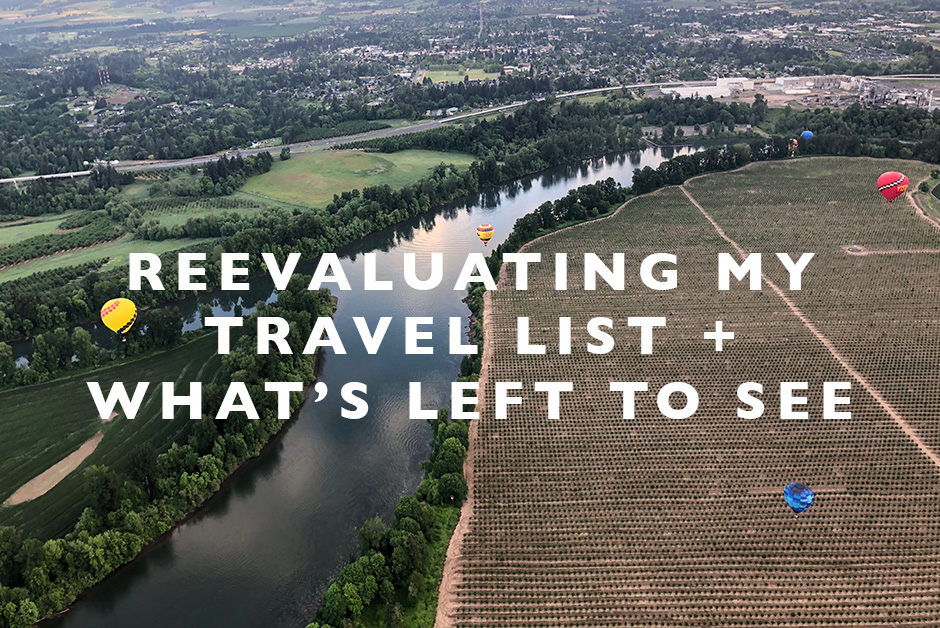 After taking a bit of a blogging break, I find myself being drawn back into this space as of late.  I'm craving the space to write, which is why I started this space so long ago in the first place and it's so refreshing to get back to just letting the words flow freely, without feeling the need to write about specific things, without feeling the pressure to post a certain amount of times per week.  And I must say, I'm so glad I've finally found myself getting back to basics here on LOM and I'm so thankful to have you guys along for the ride!
In the break from blogging and travel in general these last few months due to a family illness and surgery, a canceled trip to Europe because of said family illness, emotional highs and lows, and the launch of a new business, I'm ready to get back to travel.  And while it still won't be as often or traveling as far away as I have been the last few years, my travel in the upcoming next few months is something I'm very much looking forward to.  And in that few months time when there was no travel happening, I found myself thinking about what is next as far as travel for me.  Our trips this year: Paris and Provence in July, Pacific Northwest local travel throughout the Summer, Vermont in October and Spain in November are ones that got planned somewhat hastily after we canceled our Spring Europe trip and used the miles and money we got back from that canceled trip to plan the rest of our year.  And while I'm so excited for all of those trips, they will be repeat trips this year to some of our favorite spots around the world and not any new ones.  Knowing that this year was a little different for us in terms of travel, I find myself now having the space and time to finally start reevaluating my travel list and piecing together what comes next in my travel journey.
I like to keep a running list of places that for one reason or another are of interest to me at any given time.  It might be a photo that sparks something or an article I read.  It could be from a movie or a tv show or a song that inspires me, but for me, picking places to travel is something of a gut feeling.  And here at this juncture in my life, I find myself contemplating what's left to see, where I should go next.  A friend of mine asked me a few weeks back, "where is top on your list?"  That's a hard question for me because for one, it's ever-evolving.  But two, there are so many places I've loved that I would like to go back to as well.  Travel for me never has been about checking something off a list and I've never been one to use the term bucket-list because so many places on our list are repeats, and places that evolve over time instead of a steady "bucket-list" of places to check off once I've seen them.  But as I think about what my next chapter of travel will include, I know that I want to have a record of the places that I still have yet to get to, propelling me forward to see as many of them as I can in the next handful of years, some hopefully more than once.
I've been so fortunate to have seen so much of the world so far but there is still so much left to see.  So as I move forward into this next chapter of travel, here are the places that are topping my travel list.  Some of them are near, some of them are far away. Some of them I'll make it to in the near future, others might take years.  But all of them inspire me in one way or another and I know they will reveal something incredible in the process.
My (current) Travel List (in no particular order)
Europe
-Lake Como and surrounding Areas
-Switzerland
-Tallinn
-All of Norway
-Basque Country in Spain
-Roadtrip all around France
-Tulip fields in the Netherlands
-Return visit to Stockholm and exploring more of Sweden
-More of Iceland
-More of England
-Return visit to Vienna
-Prague
-Amalfi Coast in Italy
-More of Northern Coast in Italy
-Venice, Italy
Middle East + Africa
-Petra, Jordan
-Oman
-Return visit to the UAE
-Egypt
-Return visit to see more of Morocco
-Istanbul and Cappadocia
-South Africa
-Safari
-Namibia
-Return visit to Saudi Arabia
Asia
-Return visit to Seoul, South Korea
-Guilin, China
-More of India + celebrate Hali
-Return visit to Bali
-Return visit to Cambodia
-Vietnam
Australia
-Uluru
-Brisbane
-Whitsunday Island, Queensland
North America (not including all local Pacific Northwest spots)
-Return to Charleston, South Carolina
-Chicago
-Austin, Texas
-San Antonio, Texas
-Philadelphia, Pennsylvania
-Niagara Falls, New York
-Quebec, Canada
-Newfounland, Canada
-Banff, Canada
-Return to Sedona, Arizona
-Mexico City, Mexico
-Guadalajara, Mexico
-More of Alaska
-Death Valley, California
-The Wave, Utah
-The Florida Keys
-Caribbean Islands
South America
-Return to Machu Picchu
-Brazil
-Buenos Aires
-Patagonia + Chile
-Colombia
Antarctica
-Cruise to Antarctica
What else should I add to my travel list?