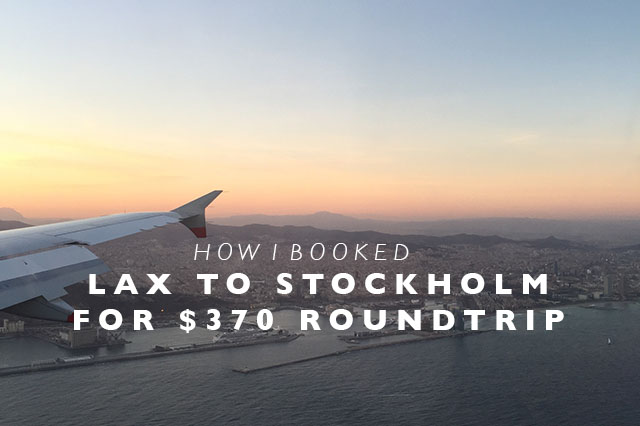 A little over a month ago, I was looking into options for a long weekend trip in January which we had set aside in our calendars.  I looked at a bunch of options including Moab, Utah and some other spots in the US and they were either all $300+ per ticket for not very long distances or our timeframe wasn't going to work.  I was also reading a blog post that morning talking about Norwegian Air which offers really cheap flights to Scandinavia from the US so that I thought I'd check that out just for fun.  Turns out, I was blown away by the amazing fares… fares like $370 roundtrip from Los Angeles to Stockholm.
Stockholm has always been on our travel list but never at the top so we've never made it a priority.  However, the Swedish city gets rave reviews from people who have been there and I figured why not?  I can't even fly to Hawaii anymore for $370 roundtrip and we can get half way around the world for that?  Yes please!
The other great thing about Norwegian Air…they fly Dreamliners on these routes which are amazing. We have favorite seats on the Dreamliners in Economy that allow us to spread out (if you're flying a Dreamliner, book the 2 seats on the sides at the very back of the aircraft…they have way more space!).
So long story short, for only $370 roundtrip we'll be heading to Stockholm for a long weekend at the end of January to enjoy a cold, snowy, wintery weekend in Scandinavia!
Head on over to Norwegian Air's website to look for your own great deals.  They had lots of options on dates as well as multiple destinations like Copenhagen and Oslo as well.  From the US, they now fly out of a ton of cities – so be sure to check them out for your next travel adventure!
Traveling to Sweden?
See all of my posts on the country!