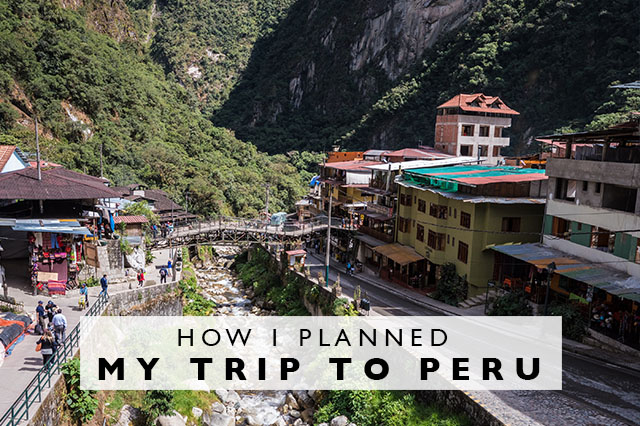 When we were traveling through Peru, I had numerous questions come in from readers and on Instagram of how exactly I had planned our trip.  A lot of people mentioned that they have heard it's a lot of work to plan a trip to Peru, particularly to visit Machu Picchu and I won't lie, it was.  This 5 day trip through Lima, Cusco and Machu Picchu perhaps took the most planning of any trip we've ever done, but I will say this, it was beyond worth it in the end.  If you're thinking of traveling to Peru and Machu Picchu, it's a lot of work to plan, but you won't be sorry.  And to make it even easier, here is exactly how I planned my trip to Peru!
6+ Months Before
Book Your Flights
We flew LAX to Lima on LATAM airlines and were pleasantly surprised by the service and food we had on our flights.  Flights can be pretty expensive from the US so you'll want to book well ahead of your trip and watch for good fares.
For intra-Peru flights, we flew Star Peru from Lima to Cusco and back again.  We didn't have the greatest luck with them (they canceled our flight on the way back to Lima and messed up our schedule without notice) but at the time of booking, they were the cheapest.)  If I did it again, I'd probably just fly everything through LATAM.
Book Your Hotels
Because Peru and Machu Picchu are such huge tourist attractions, you want to book your hotels in Cusco and Machu Picchu well in advance.  Also keep in mind a ton of people travel in tour groups through these 2 spots so hotels book up really quickly with huge groups.
We stayed at the JW Marriott El Convento Cusco and the Belmond Sanctuary Lodge – both of which I'd highly recommend.
1+ Month Before
Buy your train tickets to Machu Picchu
We traveled by train on Peru Rail from Cusco (Poroy Station) to Machu Picchu (Aguas Calientes Station).  The website was a little difficult to maneuver if you don't know any Spanish and their English section was a little hard to use, but overall, I was able to buy our tickets online.
However, when we arrived at Poroy Station (which is a solid 35 minute drive from Cusco be aware), to pick up our tickets, we were informed that it is required you pick them up at least 4 hours prior to the train, meaning we should have done it the previous day but didn't know.  We had to end up buying new tickets for the one way to Machu Picchu which was kind of a hassle.  So long story short, once you arrive in Peru, make sure you pick up your tickets at any Peru Rail kiosk throughout the major cities.
Buy your Machu Picchu Tickets
One thing that's really important to note, you CANNOT buy tickets to Machu Picchu at Machu Picchu.  They must be bought in advance and they only sell so many per day.  I bought ours through our hotel concierge over email so that we were sure to have them beforehand.
Arrange airport/train station transfers through your hotel
It was a huge help to have pick ups arranged through our hotel for both the airport and the train stations throughout our trip and didn't cost very much.  It was so much easier than having to figure out taxis and speak in Spanish to get places.  I would highly recommend arranging these through your hotels before you leave on your trip.
1 Week Before
Buy your Travel Insurance package 
We don't always buy travel insurance but I did for this trip and I'm so glad I did.  We ended up having to add an extra day to the trip based on our flight out of Cusco being changed without our knowledge.  And our travel insurance covered our extra expenses.  We buy ours through World Nomads.
Go through your packing checklist and confirm you have everything you need
There was a lot of extra stuff that we needed to bring for Peru and Machu Picchu in particular, which I'll cover in depth in another post.  But things like sunscreen, chapstick, bug spray, hiking gear – make sure whatever you need, you make a detailed list and then check it off and make sure it's ready to pack.
2 Days Before
Print off all your booking references and information
I do this for every trip, but because there were so many individual bookings for this particular trip, it helped even more to have everything printed off and ready to go.
Confirm all flights
This is also a great time to confirm your seats and loyalties with all your flights as well as adding all the flight information into your phone to track your flights.
Check the weather forecast and confirm you have everything you need
While you'll have a good idea of weather about 10 days out, it's important to check again within the 2-3 days before you leave.  It actually ended up being a little cooler than it had looked for us, so I added in an extra scarf and coat before leaving.
1 Day Before
Confirm all tickets
Make sure you have any tickets necessary printed out like your train tickets and any boarding passes for flights.
Get Excited!
You're heading to Peru!  You'll have the trip of a lifetime, so now, just be ready to explore!
Traveling to Peru?
See all my posts on Peru!