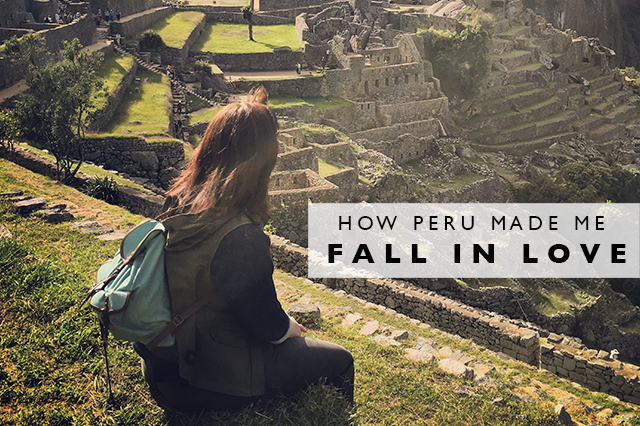 Back in May, Nick and I ventured out on a trip of a lifetime, or so I thought.  For an early birthday trip (Nick turned 30 in June), I booked us a trip to Peru through Lima, Cusco and Machu Picchu.  When booking it and when telling people about it, I kept saying, "it's one of those once in a lifetime trips."  For some reason, and I don't really even know why, I didn't think I'd enjoy South America as much as I enjoy some of the other continents.  For some reason, I kept thinking, we wouldn't do this trip again or see much more of the country.  For some reason, I felt like we just wouldn't have any desire to go back.  And wow, could I have been more wrong.
Our trip to Peru was life-changing.  And I don't say that lightly.  I've seen a lot of the world, I've stepped foot on 6 continents and visited 30+ countries and countless cities.  I've lived abroad and fallen in love with so many places around the globe, but Peru was different.  Maybe it was my attitude going into it.  I felt myself feeling differently on our way to Peru.  I was giddy with excitement, a feeling that while still makes appearances when traveling, has somewhat lessened over the years of constant travel.  I was apprehensive, a feeling that I think actually is good for a traveler.  It means we still have more to learn, we still have more to absorb.  And I think those feelings, that's how Peru made me fall in love.
South America for me had always been a destination never high on my list.  It scared me a little, so outside of our comfort zone, so different than we are used to.  It made me apprehensive to plan a trip to my neighbor continent, it seemed difficult.  And to be honest with you, this trip did take more planning than perhaps any trip I've ever planned.  It was a long process and there were a lot of steps, particularly for Machu Picchu.  But on the other side of our experience in Peru, I will say with 100% certainty and honesty, every moment planning and every dollar spent is far beyond worth what your experience will be in this amazing country.
There were moments on our trip to Peru that were some of our best ever while traveling, and coming from me, that means a great deal.  I held a baby alpaca, spent mornings with wandering llamas, sat in awe at Machu Picchu, breathed in the thinnest air we've ever experienced at 11,000 feet in Cusco, ate incredible food, wandered local markets, spoke broken Spanish with locals and fell completely head over heels in love with Peru.
This trip completely changed my opinion of South America.  It made me want to travel more in that region, to take in the absurd beauty that South American landscapes are, to meet more locals throughout the region, to better my Spanish, to find out more about countries that I really don't know that much about.  Peru made me fall in love not only with the regions within its own borders, but with an entire continent and I'm not sure I can say that about any other country I've ever visited.  Peru changed me, it brought back that sense of new-ness that sometimes gets lost after traveling as much I have.  It brought back that awe, it inspired me.
And while I had been telling everyone before hand about our "once in a lifetime trip to Peru," I know better now.  I hope to visit Peru many times in my lifetime.  I hope I get to visit Machu Picchu over and over, at different times of year, at different points in my life.  I hope that I explore all over South America and I hope that with each time I visit, I find myself going back to all that Peru gave us on our first trip there and the dreams that it inspired.
Traveling to Peru?
See all my posts on Peru!