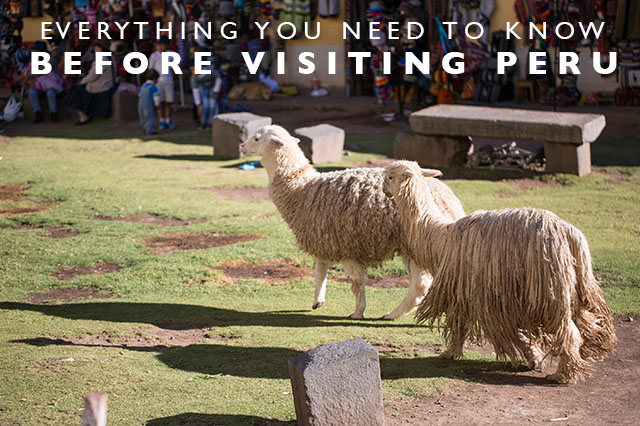 *Note – everything here will be related to Lima, Cusco and Machu Picchu as that's where we spent our time during this trip to Peru.
Peru was a fantastic destination and one I know we'll for sure be returning to in the future, but it did also pull us outside our comfort zones a bit.  I wasn't sure what to expect before traveling to Peru and even though I did quite a bit of research, I didn't find much to really prepare me for our time there.  So if you're thinking of heading to the land of the Incas, here's everything you need to know before visiting Peru!
The Toilet Paper Issue
I read numerous posts and articles before leaving for Peru that mentioned over and over how you have to put your toilet paper in the garbage can everywhere. And yes, in almost all public places, even including airports, this is true.  However, staying in higher-end hotels (which we did), they have their own piping systems and the rule doesn't apply there.  But just be careful with this as apparently paper can really clog up their piping and when in doubt, ask.  Or a good note of reference is if the trash can has a lid, you probably will put it in there, if it doesn't, you can probably flush it.
The people are the friendliest I've ever encountered (and so are the llamas).
I'm serious when I say this, the people in Peru are the kindest and most helpful we've ever encountered while traveling and we've traveled to a lot of places!  Everywhere we went, they were lovely to deal with and beyond helpful.
And the llamas and alpacas, let's be honest, this was the best part of our trip!  Everywhere we went there were these lovely creatures and they were so friendly.  Our doctor told us not to pet them before we left, but seriously, how could I not do that!?  The best thing though is to make sure and have some hand sanitizer because no matter how lovely, they are dirty too.  But pet as many llamas as you want and just wash your hands after.
Outlets
I had a hard time finding much on what type of outlets Peru would have before we left and none of our adaptors said they worked in South America.  Every place we stayed though, had both American type outlets as well as European style outlets so bring your European adaptors, but most hotels will also have US Style outlets.
Don't drink the tap water.
This is an important one and one you'll regret if you don't follow.  Don't use the tap water in Peru, even to brush your teeth.  All hotels will supply bottled water for this purpose, but also be careful not to swallow any in the shower.  And finally, ask for no ice when eating out at restaurants.
Traveling to Peru?
See all my posts on Peru!