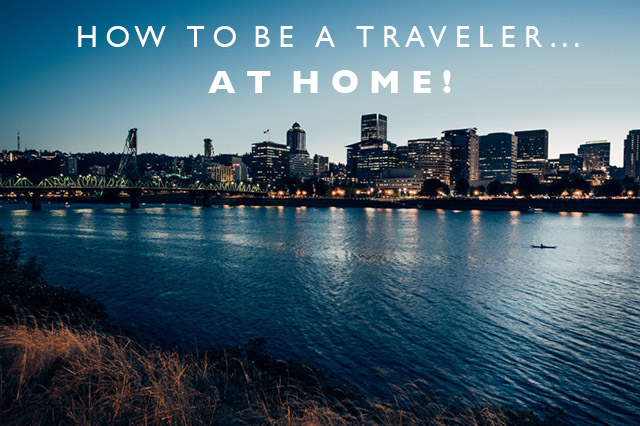 While I often head off on adventures near and far, I also love spending time close to home and exploring my own backyard.  Whether you don't have the resources or the time to head off to an exotic land, you can still be a traveler…at home!  All you need to do is find a place in your own area to have an adventure and take it all in.  So here's how to be a traveler in your own backyard.
Research your own area like you would if you were traveling there.
Before we travel to some place new, I do a ton of research.  Why not do that for your own area?  I bet you'll find all sorts of things you never even knew were there and activities that would be great to try.  Take the time to look into your area how you would if you were a tourist and you'll find things you never expected to.
Read blogs or buy a guidebook on your home city.
A great way to add to that internet research on your home area, buy a guidebook on your home city or scour blogs for info on people that do travel there as tourists.  You'll see your city from the perspective of a tourist this way and be able to get yourself into that mind set to explore your area with fresh eyes.
Wake up early or stay up late.
One thing Nick and I do a lot when traveling (and hardly ever when home), is to get up for the sunrise or stay up for the sunset.  In the scope of our daily lives, we're too busy to schedule around that, but why not take a weekend and get up to see the sunrise over your home city or stay up to see the sunset over the horizon.  It will make you see your home in an entirely new way.
Try a restaurant you've never tried.
One thing we do a lot to get out of the rut of routine at home, try a new restaurant.  Whether it's in a new neighborhood you don't go to often or just a new kind of food you're not used to, give it a try and you'll feel like you're on an exotic adventure.
Photograph your hometown or area.
Nick and I are terrible about really photographing Portland.  When we travel, we always have cameras with us, but we rarely do when out and about in Portland because it's home, we've seen everything a million and one times and it's not new anymore.  But a great way to feel like you're traveling even when at home, take your camera with you and snap as you would if you were traveling.  You'll walk away seeing a totally new side of your own city.