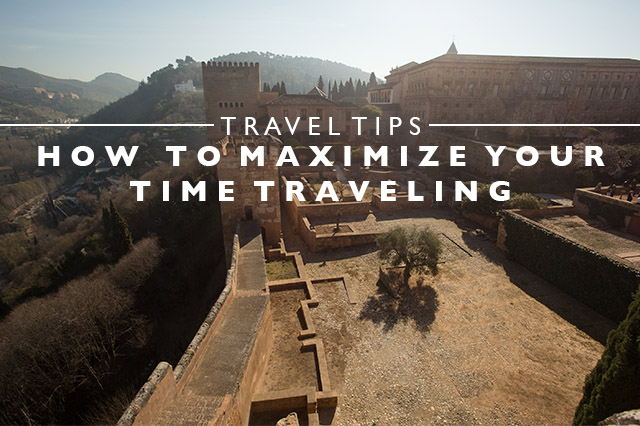 I hear a lot, "how can you guys see so much in such a short amount of time when you travel?"  It's true, Nick and I don't do long term travel.  Even our 2 long trips each year (usually in the Spring and Fall) are usually no longer than 10 days.  In those trips we're able to usually see at least 3-4 cities and multiple countries, depending on our itinerary.  In our shorter trips, often we do long weekends and still see quite a bit.  Even then we try to see as much as we can.  There are lots of ways to really maximize your time traveling so that you see all that you want to, even if you're not in a place for weeks at a time and here's how!
Do your research and plan out an itinerary.
I'm a big believer in having a plan.  Before we head somewhere I do all the relevant research needed and make a day by day itinerary.  While we may alter our plans while traveling, having an itinerary with well researched items really helps us to see as much as we can.  I organize days be neighborhoods near each other or what makes the most sense time-wise, that way we're not wasting a ton of time in transit or getting from place to place.  Try to have as much detail as possible so that when you get there, you don't waste time thinking about what you're going to do today.  Also be detailed about how long it takes to get from place A to place B, so you can figure out how much time it's going to take and be aware of how much of your trip that will take up.  (I shared a little more about my itineraries here.)
Don't worry about seeing it all.
One thing Nick and I do a little differently than a lot of other people we know that travel, we don't worry about seeing everything, even some of the big tourist attractions in places.  For us, travel isn't always about seeing everything that the guidebook says to, it's about doing your research and narrowing it down to the places that are of interest to you or that will mean the most to you.  It's ok to not see everything and in the meantime, you'll see what you want or need to and be able to maximize your time better.
Know that you can always go back.
The mindset that you have to see everything and squeeze everything in while traveling because you'll never be there again doesn't appeal to me.  I like to really feel a place, understand it's vibe, and get to know it instead of running around crazy squeezing everything in and rather, I subscribe to the thought that I can always go back.  Travel shouldn't be about a once time experience, but rather about knowing that if you find a place you like, that you want to see again, that opportunity is open to you.