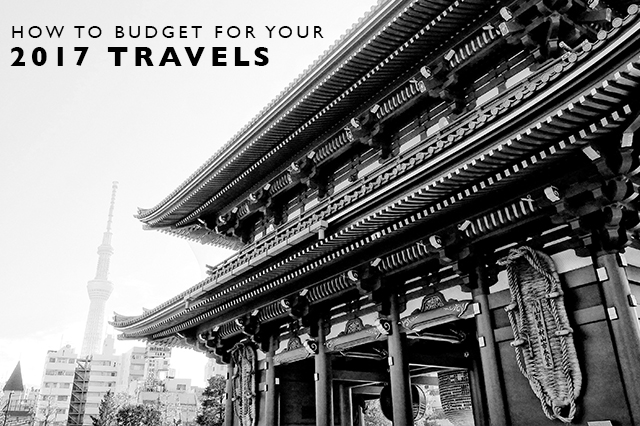 One of the most common things I get asked about is how much travel actually costs and how to do it economically.  Over the years of frequent travel, I've gotten really good at minimizing the cost by using points and miles to pay for travel or finding amazing airfare deals to fly all around the world.  And yet, travel still does cost money even if you try as best you can to minimize that cost.
The best way to travel economically is to plan ahead, first and foremost.  The farther you can plan ahead, the less stuff is going to cost and you'll also have time to pay for it.  So as we start the year, if you're hoping to travel more this year, here's how to budget for your 2017 travels and figure out just how much you'll need for whatever kind of trips you want to take!
*Note – all these are ideas from the West Coast of the US, if you live in Europe or Asia, it probably would be a lot cheaper for each of these ideas.
For 7-10 day Trips Abroad
For those larger trips where you might spend 7-10 days traveling abroad, if I'm not using any points and miles, I usually budget around $4,000-$5,000.  Granted, I hardly ever pay that anymore since I'm using ways to cut that back (more on that below), but if you were paying for everything out of pocket for 2 people and doing everything middle of the road, this is what I would budget.
Also note that you may pay more in peak season like Summer.
This would include: economy airfare abroad for 2 people, 3-5 star hotels for each night traveling and all food and expenses during the trip.
Example Trip: Portland to Bavaria and Austria, including stops in Amsterdam, Munich, Salzburg, Hallstatt.  Also includes rental car, intra-Europe flights, all 4-5 star hotels and food and activities while there.
For Long Weekends Abroad
For those time when you want to utilize a holiday and don't want to take time off of work but want to escape somewhere abroad, I would budget between $1,000-1,500.  My advice for this type of trip would be to fly direct, even if it costs a little more – but you'll be able to maximize more time on the ground.  Again, this is if you're paying everything out of pocket and probably traveling in the off season.
This would include: economy airfare abroad for 2 people, 3-5 star hotels for each night traveling and all food and expenses during the trip.
Example Trip: Portland to Iceland for 3-4 days
For Long Weekends Domestically
When you want to escape but want to stay closer to home, this is a great way to travel really economically.  For long weekends domestically, obviously depending on how far you go, I would plan on $300-$800.  
How to Save Money on Travel This Year:
–Cash in those airline miles you've been saving.  I personally love Alaska Air and the Chase Sapphire points programs.  And if you aren't a member of any travel loyalty programs – sign up now!
–Get a credit card with great travel rewards if you haven't already!  I love the Chase Sapphire card for amazing travel rewards.
-Jump at booking cheap airfare.  When you see an amazing airfare – book it.  Don't wait!  They often will go away or jump up after you look.
–Dig more into budget airlines.  There are some amazing budget airlines flying to the US these days including Norwegian Air, WOW Air and Iceland Air.  All offer amazing deals to Europe like our $350 roundtrip fare from LAX to Stockholm.  So take a look at their website directly to see the best deals!
–Look into cheaper destinations like SE Asia, China, or Spain.  If you want to travel but don't want to pay the prices in cities like Paris and London, look at spots around the world where you'll get more bang for your buck.  If you want to go to Europe on the cheap, Spain and Portugal are amazing options.  If you want to head to Asia, places like Thailand and Cambodia are super cheap or head to China where everything will be cheaper.
–Travel in the off-season.  Don't want to spend so much on travel?  Travel in the off seasons when tourist spots are trying to real in travelers – you'll get everything for so much cheaper, plus everywhere will be quieter.  You'll always pay more around big holidays like Christmas or during the Summer – so travel in other times of the year.
–Plan ahead.  The farther you plan ahead, the better prices will be and you'll also give yourself more time to be able to pay it off.