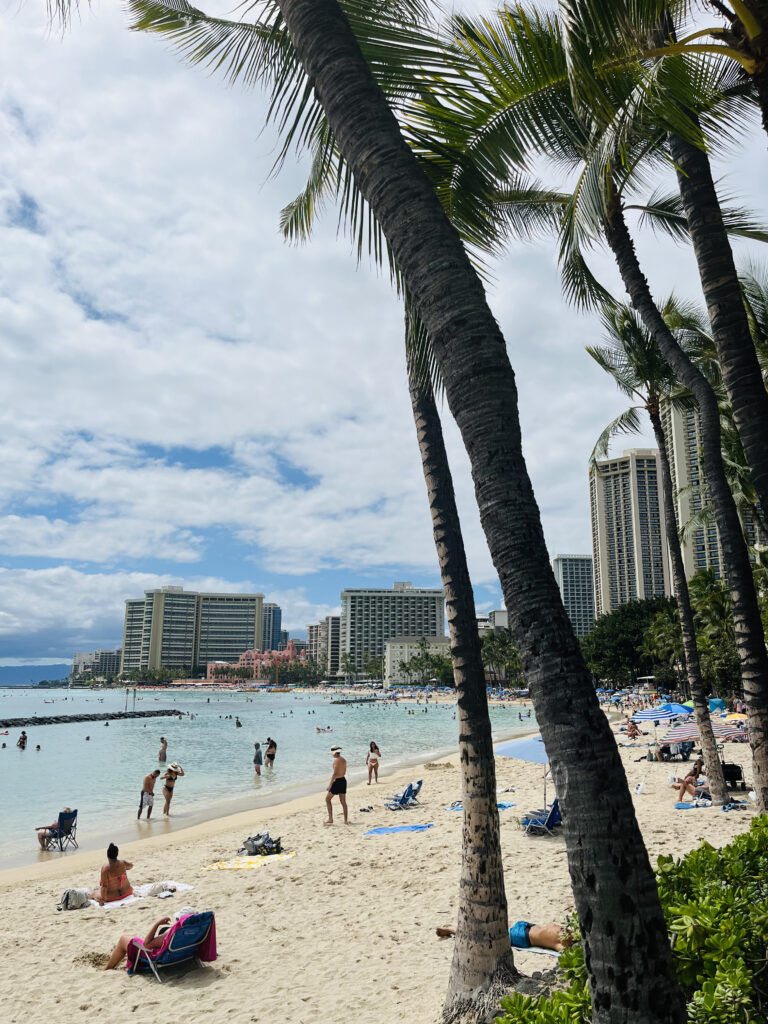 Nick and I just got back last weekend from a long weekend in Waikiki on Oahu, Hawaii and it was our first time back to the Hawaiian Islands since before COVID.  If you're new here, I used to live in Hawaii right out of college and then my parents lived there for 12 years, in addition to me working there for over a decade, so I've spend my fair share of time on Oahu.  But this time it was different, we were actual tourists.  We weren't going for work or to see my parents and for the first time we stayed in Waikiki.  While we've explored that area a lot, we've not actually ever stayed there so for a May escape, we spent a long weekend there and here are all my tips for how to do a long weekend in Waikiki and how to save some money doing it as well!
Saturday
Fly from the West Coast to Honolulu.  We live in Portland so the flight to Hawaii is a quick 5.5 hours direct and I think in order to really only do a long weekend you sort of need to be coming from the West Coast.  We jumped on a 7am flight over to Honolulu and with the 3 hour time change, landed around 10am Hawaii time.  We had a friend pick us up from the airport, but you can rent a car on the ground, grab a taxi or an Uber from Honolulu Airport.
Look for flight deals on Booking.com's Deals Page and you can still get great fares to Hawaii!
Head into Waikiki!  The airport is really close to the city center in Honolulu so to get by car to Waikiki from the airport will take no more than 30 minutes (unless in you're insane traffic).  Drop your bags at your hotel and then grab some lunch.
Some casual lunch spots I recommend: Kuhio Avenue Food Hall (in the International Marketplace – I had great ramen from there!) and Shore Fyre on the rooftop of the International Marketplace)
If you still can't check in your hotel yet, take a quick wander down the main strip of Waikiki and see the views of the Waikiki Beach, curving down the coastline with hotels popping up as far as the eye can see.
Once you can check in, head back to your hotel and take a nap!  You are on vacation after all and you had to get up early for your flight.  We stayed at The Shoreline Hotel and if you're looking for more of a small boutique hotel vibe, it was great.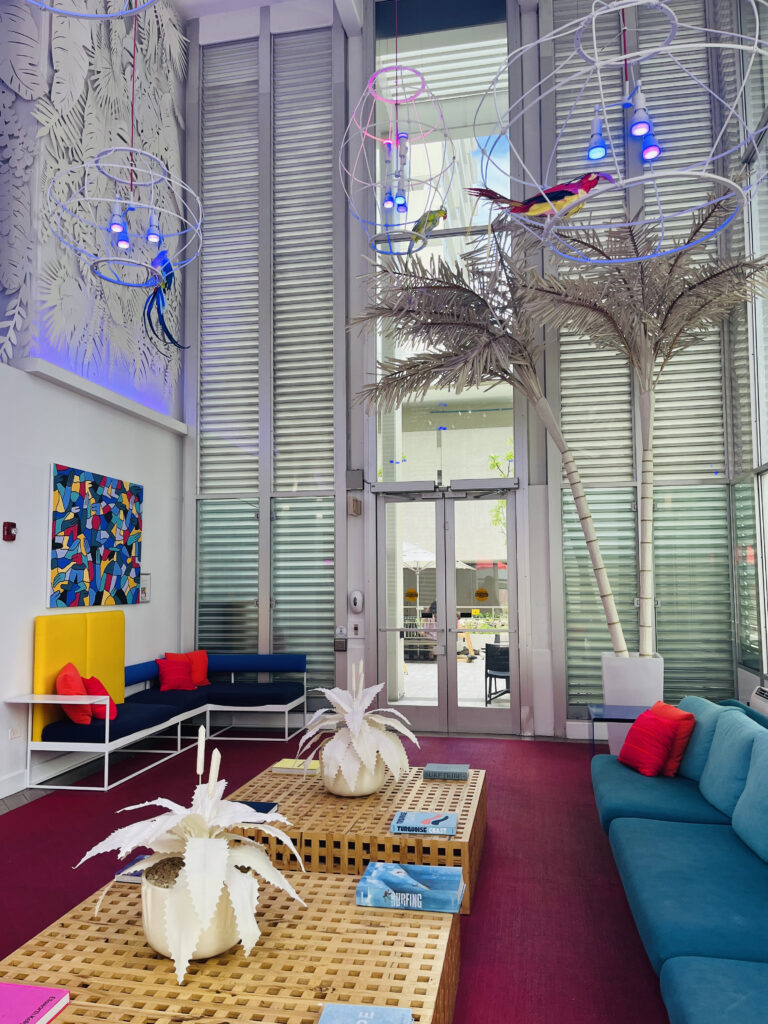 After a leisurely afternoon, head out to dinner!  Try one of my favorite spots that not many tourists know about on Kuhio Avenue: Hy's Steakhouse.  This legendary steak house in Waikiki is more known to locals and the Japanese community visiting Hawaii but it's an old school steak house and the food is always excellent, and so is the service.
Sunday
You'll probably be up early due to the 3 hour time change, so take advantage of those cool early morning hours and walk down to Magic Island.  This beach park down toward the Ala Moana mall is about a 35 minute walk from the heart of Waikiki and is a more local spot.  You'll see locals out on their morning runs and fishermen wading into the ocean to fish.  It's a great loop and you'll see lots of ocean and marina views.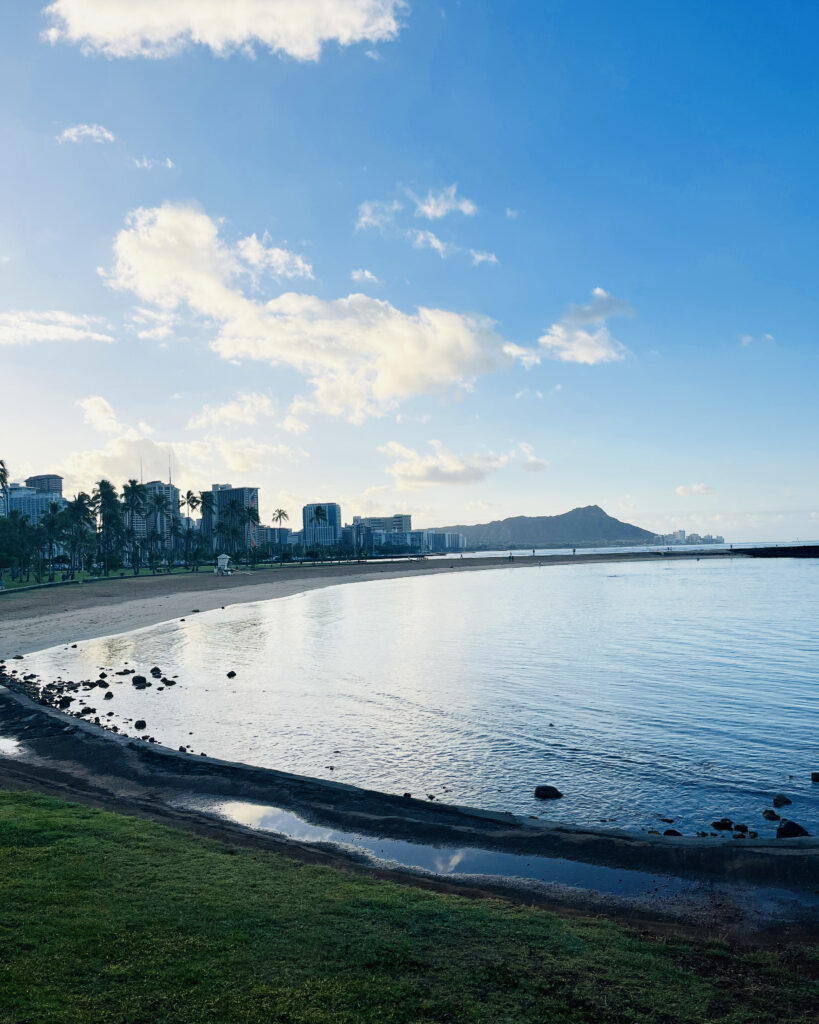 Grab a coffee on your walk back to Waikiki, there are lots of places to get one on the route.  As you wander back, you'll see Waikiki waking up.  These early hours are my favorite in Hawaii before the craziness and the weather is more manageable in terms of the heat and humidity.
Have breakfast on the lanai at Hula Grill.  You'll want a reservation for this spot and the views are more than worth it, looking out over the pool of the Outrigger Hotel and over to Diamond Head.  I love their Aca'i bowl and a side of avocado toast.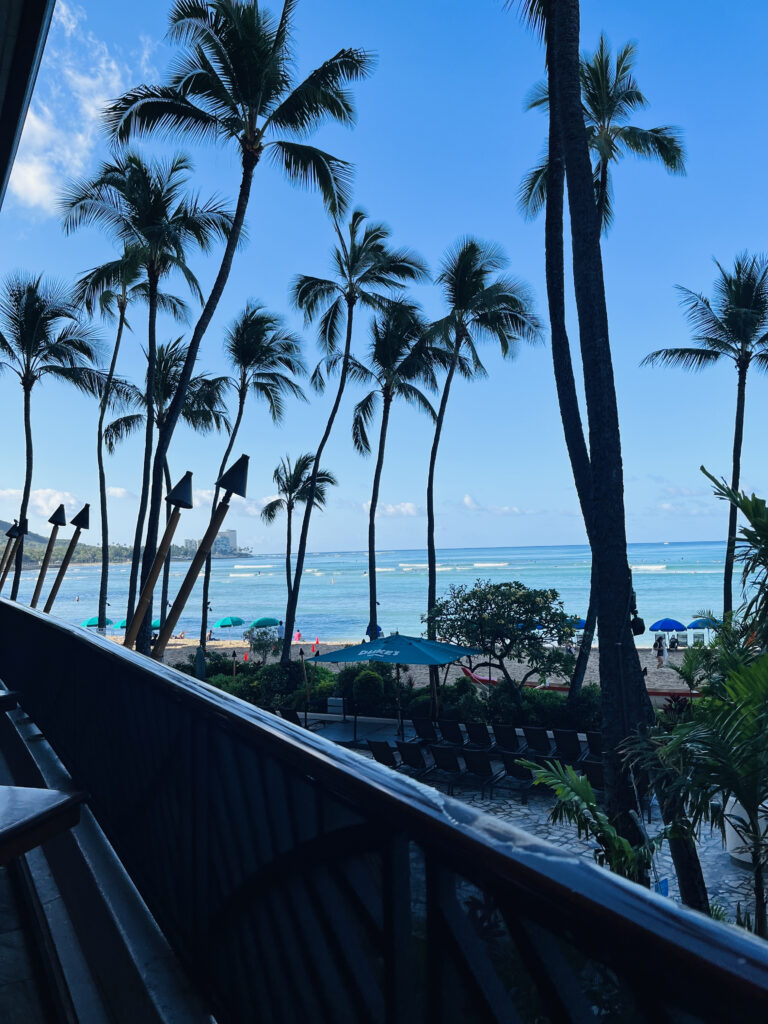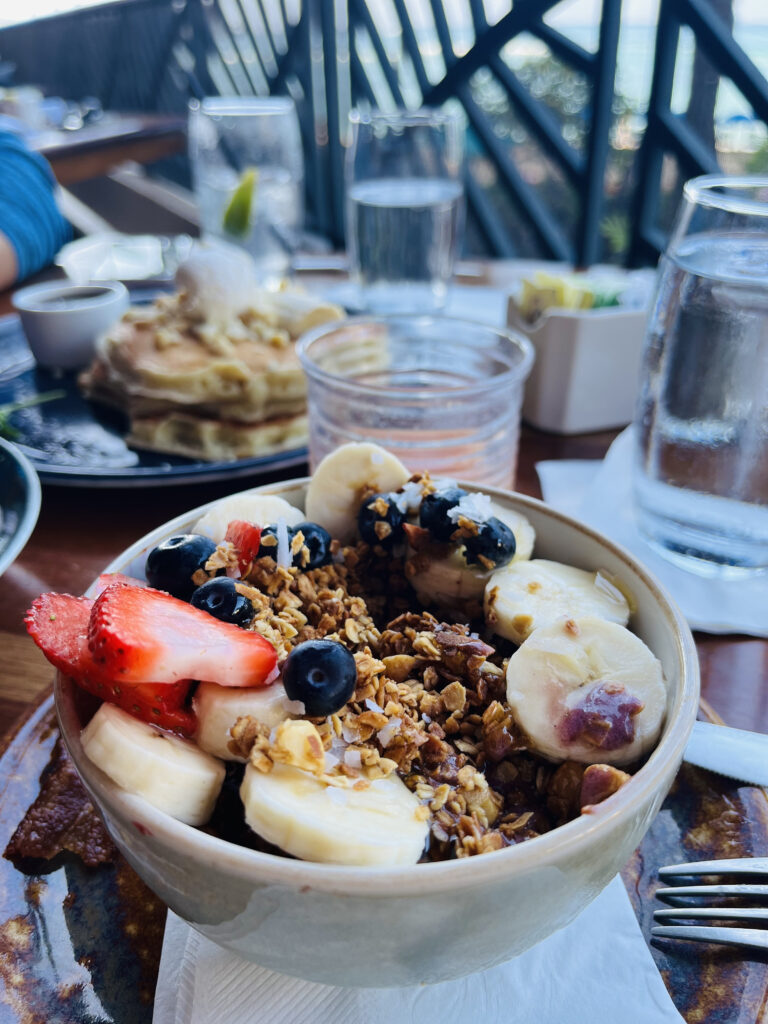 Spend Sunday resting and relaxing!  This is going to mean different things to everyone and for some, that might mean heading to the beach.  For others, it might mean lots of naps and hanging out by the pool.  Spend the day however you like best!
Grab a casual dinner followed by shave ice.  There are a ton of spots in Waikiki for a casual dinner for whatever type of food you want, but don't forget to grab a shave ice after for a local treat.  If you can eat dairy, get it with ice cream at the bottom – trust me, it sounds weird but it's so good. Try these spots for shave ice: Magnolia Ice Cream and Island Vintage Shave Ice.
Monday
Start your day with coffee and breakfast at Island Vintage Coffee in the Royal Hawaiian Shopping Center.  Pro tip – if the coffee shop line is long, they serve everything the same in the Wine Bar a few shops down.
Explore more of Honolulu.  On our last day, I went and saw some old associates but you could head to the Ala Moana Shopping Center or explore more of the city like Chinatown or Old Town.  I recommend using The Bus to get around as it's super quick and easy and probably your most economical option.  You can use Apple Maps on your phone on the transit option to see which stops to get on and off and you can buy a bus pass at any ABC Store around Waikiki.
Grab a Lyft to the Airport.  As your time comes to an end, you'll want to grab a Lyft or an Uber to the airport.  There aren't a ton of great food options at HNL, so you may want to have a nice long lunch in Waikiki before heading back to the airport to head home.
Ways to Save Money on Your Trip to Hawaii
Hawaii can be super expensive, even for a few days.  Here's how we took this trip on a major budget!
Book your hotel with credit card points – We paid $0 for our hotel for 2 nights and used Chase Sapphire credit card points for the booking.  That savings really adds up!
Use airline miles or credit for the flights – We had large credits from another trip that we used for this one and paid about $50 total for our flights.  Using air miles (I'm a huge fan of Alaska Air's mileage program!) will save you a ton when it comes to Hawaii.
Use a companion pass – When we were traveling regularly to Hawaii, we used to use the Alaska Airlines companion pass that comes with their credit card for flights over.  I would book one full price for me and use the companion pass for Nick and his ticket would cost $100.  It's an amazing deal that you get every year just for having the Alaska Airlines credit card – so worth it!
Combine Meals – The meals in Hawaii can add up so combine some meals since you're sort of off time zone anyways.  One of our favorite ways to save money is to combine lunch and dinner into one larger meal and then we aren't hungry again and you'll save money on an extra meal.
Take The Bus instead of car shares – I'm a big fan of public transit everywhere I travel but I happen to love The Bus system in Honolulu and have used it frequently over the years.  It's efficient, clean, and easy to use and will save you a bunch of money over using Uber or Lyft to get around.
Walk Everywhere – Honolulu is really walkable and everything is within a 40 minute walk basically so if there is somewhere else you want to go out of Waikiki, map it and walk.  Free and easy.