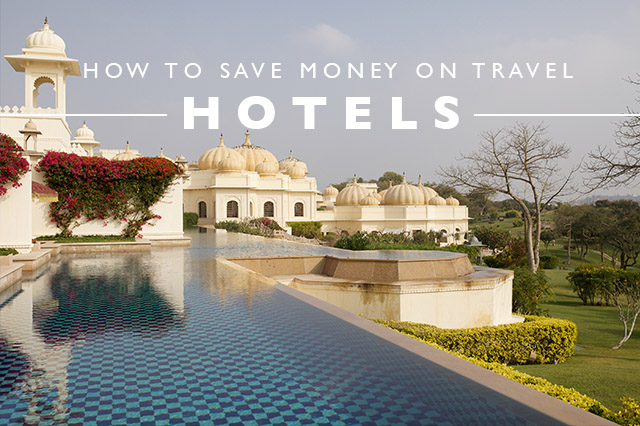 One of the most common questions I get from people who want to travel is how to save money on travel so that it's more affordable.  So in this week-long series, we'll be covering all parts of travel and how to save money so that you can travel more and spend less!
Hotels or accommodation can also eat up a lot of your travel budget and it's often one of the first places people try to cut by staying at lower end hotels to save money.  However, there are a lot of tricks to use to stay at nice hotels without the huge price tags and here's a few ways to do that:
Loyalty programs with chains.
Do you like a specific chain of hotels that have hotels around the world?  Then you should definitely be part of their loyalty program or sign up for their credit cards.  Personally, I prefer boutique hotels over chains, but I know that the hotel chains like Mariott or Starwood have amazing credit card programs and loyalty accounts that can save a lot of money.
Accumulate free nights with hotels.com.
I've been a fan of hotels.com for over 5 years now and I can't even tell you how many free nights we've gotten over those years.  It's still, in my opinion, one of the very best hotel loyalty programs out there.  Basically every 10 nights you get a free night through hotels.com that's the average price of the other 10 nights you've stayed.  For us, that usually works out to be about $250 for a free hotel night.  It's super easy to use and apply to hotel stays anywhere in the world.  Another great thing about hotels.com that I love, is that the majority of the hotels on the site offer free cancelation, which means it's really easy if your plans change and you do it all on the website with no hassles.
Travel off season or to places with great exchange rates.
Traveling off season can cut your hotel cost almost in half or more.  We try to do most of our traveling during the Spring and Fall/Winter so that we don't pay the huge costs of travel during the Summer when everyone else is traveling and everything costs double the amount.
Another great way to save on hotels is to travel to places with great exchange rates.  For example, in Sydney on this current trip we're on, we stayed at the Four Seasons in Sydney with views of the Opera House for a really reasonable price because the USD to the Australian dollar is a great exchange rate right now.  So places like that are a great way to splurge on nice hotels without the hefty price tag.
Stay in less touristy areas.
If you're willing to get away from the touristy areas of places, often times the price tags drop dramatically.  There are still a lot of hotels out there that are in great areas, they just might be a bit off the beaten path.  Look at your schedule and see if that will work for you, often times if it does, you'll be able to save a ton of money on accommodation.
Look into AirBnB and other home share sites.
If you prefer the apartment or renting houses route when traveling, sites like AirBnB have some incredible rates.  We stayed last year in an apartment in Paris for something like $150/night on the Ile St. Louis, which if you know Paris, is in the center of everything!  Very rarely will you find hotels for that price in the center of Paris and you can find deals like that and even less when you rent houses or apartments instead of hotels.