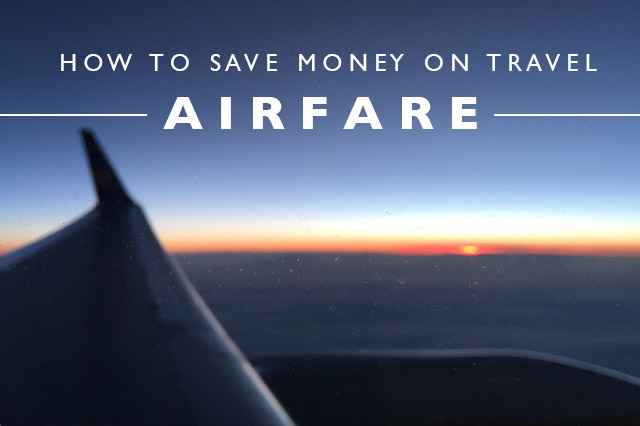 One of the most common questions I get from people who want to travel is how to save money on travel so that it's more affordable.  So in this week-long series, we'll be covering all parts of travel and how to save money so that you can travel more and spend less!
Airfare is often the biggest expense for a trip, particularly if you're traveling far from home.  Even economy tickets can really add up fast, so if you can save a lot on airfare, that cuts out a huge portion of your travel expenses.  Here's the best ways I recommend saving money on travel with airfare:
Build and then use your credit card points and miles.
If you know how to do this, it's a huge money saver!  But it does take some research and getting the right information in order to really take advantage of points and miles.  The first step?  Getting the right travel credit cards and loyalty programs for you.  I love the Alaska Air Visa, the Sapphire Visa and the BA visa for credit card points and perks and I stay loyal to American Air and Alaska Air and their worldwide partners when I fly.  That way, I rack up all the points I possibly can.  The next step?  Using those points you accrue.  Airlines like American Air don't take that many points to fly all over the world and I always check Sapphire's rewards website before booking anywhere else to see if they are requiring less points, which a lot of times they are.  Shop around and then book on the points that are most worthwhile for you.
To give you an example of using points and miles, we are flying from Seattle to Heathrow in April for $5 and back home from Athens, Greece to Seattle for $200 on American Air in business class the whole way!  Miles and points can be an incredible cost saver so do the research and use them!  My favorite website to help with research and understanding the systems better: The Points Guy!
Take advantage of low cost carriers like EasyJet, IcelandAir, Norwegian and Wow Air.
Last year we flew from Gatwick to LAX for something like $200 one way on Norwegian Air.  When I booked it, I couldn't quite believe the price but low cost carriers like Norwegian are popping up more and more in the US to travel abroad.  Wow is offering $99 fares from the East Coast to Iceland and soon will be setting up shop in LAX too.  Iceland Air also offers great fares to head to Europe through Iceland and beyond and EasyJet is an amazing low cost carrier all throughout Europe.  Often times though these carriers don't show up on search engines like Orbitz or Expedia so you have to know about them.  But if you look around, you'll find them easy enough and be amazed at the low fares!
Do the research.
Whether it's for using your points and miles or researching low cost airlines or which dates to fly, make sure you do the research.  The best way to save money on airfare is to look at all the options and then watch the prices for a few weeks to see them fluctuate.  Often times prices will go up during peak booking hours and then go back down at off times, so watch the prices and then jump on a moment when they are low.  Also check monthly airfare calendars on airline websites since it will show you the cheapest days to fly.
Fly on off days.
Though there is some debate on this, I still find flying on off days (like Tuesdays and Thursdays) or at off times like really early in the morning or late at night can really help save money on airfare.  This totally depends on the airline and the frequency of that route, but if it's a route that's traveled a lot, this can often really help.  Opt for the 6am flight (even though it's super early) to save a little bit more money.  Of maybe opt to fly home on a Monday rather than a Sunday when everyone is traveling.  Often times it won't be a ton of money saved, but every little bit helps!