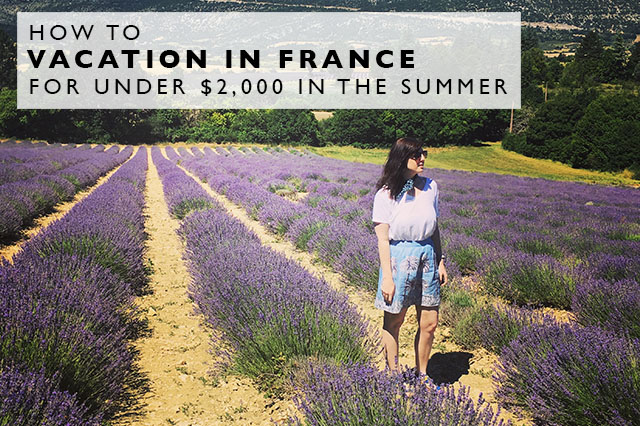 I often hear people lament about how expensive travel is, and most of the time, it's true.  Travel is expensive and takes money to be able to accomplish.  However, one of the things I wish more people would be aware of, is that it doesn't always have to!  It IS possible to not spend a ton of money on a vacation and today I'm sharing my tips with you on how to do that!  And while it's cheaper to travel in the off season, sometimes there are places we want or need to travel to in the peak Summer season which is often the most expensive time of the year to travel.  We usually don't travel in the Summer due to high prices and high temperatures, but this year we're headed to Provence to see the lavender in bloom in July during peak season and only spent a total of $1,800 for 5 days in Provence and Paris for 2 people in nice hotels the whole time!  How did we do it?  Here are all my secrets to book your own vacation in France for way less than it would actually cost if you paid money for everything!
For an overview of our itinerary, we're headed to London for a night (because it was cheapest and easy to get there versus Paris).  We'll have a day to explore the English countryside, then flying to Marseille in the South of France the next morning.  We'll spend a few days driving around Provence and then fly back to Paris for a night, before flying back to the US from Paris directly.
Airfare
The trick to getting cheap airfare?  Book on miles or book on low fare carriers like Norwegian Air from the US to Europe.   We found the cheapest deals out of LAX for the way to Europe, so we'll fly from Portland to London on the way to Europe.  Here's how we booked our flights and what we paid!
PDX – LAX airfare for person 1 – $42 using partial points from Chase Sapphire credit card points on Alaska Air
PDX – LAX airfare for person 2 – $200 paid in full through Alaska Air for 1 person
*LAX – London Gatwick airfare – $878 for 2 people on Norwegian Air (booked directly through Norwegian Air's website)
*London Heathrow – Marseille airfare – paid $0 using Chase Sapphire credit card points for 2 people
Marseille – Paris Orly airfare – paid $0 using Chase Sapphire credit card points for 2 people
Paris – San Francisco – Portland airfare – $188 for 2 people using Alaska Airlines miles on Air France
Rental Cars
*Rental Car pickup at London Gatwick for 1 day – $163 through Orbitz
*Rental Car pickup at Marseille – $170 for 3 days through Orbitz
Hotels
*Hotel at Heathrow – $100 through hotels.com
Hotel in Provence – paid $34 using free hotels.com night
Hotel in Paris – $26 using free hotels.com night
Hotel in San Francisco before Portland morning flight the following day – paid $0 through Marriott points
Total for 5 days in France during peak season in July: $1,800 for 2 people!
*Note: I wrote this post before our debacle of flights being changed (info coming in a post tomorrow!) and we ended up getting $893 in compensation due to our flight from LAX to London being oversold, so we actually ended up paying less than $1,000 on this trip!  The items above that are starred didn't end up being part of our trip, but I wanted to leave them to show what we were planning on doing in case you want to do the same trip!  
Headed to France?