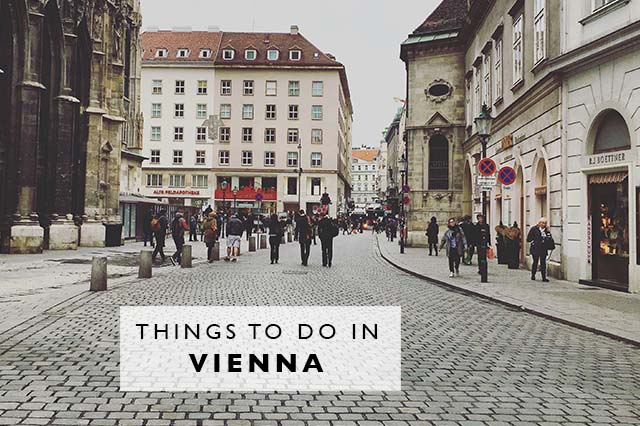 Last year, Nick and I got to visit Vienna for a mere 24 hours and I immediately fell in love with the city.  So when I got the chance to share more about the amazing city that is Vienna and all that it has to offer, I jumped at the opportunity!
Vienna, Austria is one of those places that a lot of people want to visit just because of how it looks. Images of the city evoke feelings of eras gone by. There's a historic air to much of the architecture, a natural beauty on the horizon, and the occasional photo of a horse-drawn carriage passing by a monument or landmark only adds to the charm.
But when a city is so charming by its looks alone one can easily overlook what it has to offer to a curious tourist. Below, are a few of the things you can do if you ever get the chance to visit this beautiful Austrian city.
Take In The Hofburg
Austria is home to several interesting palaces, but none in the country, or perhaps anywhere in Europe, can top the Hofburg. It's been home to nearly every Austrian ruler since 1275 (counting restored versions of the palace), and specifically housed the infamous and influential Habsburgs until the family lost power after World War I. As fascinating as the history of its inhabitants is, the Hofburg is every bit as neat with regard to architecture. There are influences from many periods of architectural history, each added by a different ruler over time, and that makes the building itself amazing to behold.
Visit The Opera House
There are multiple opera houses in town. Vienna has a very rich history with art and performance, but the Vienna State Opera House is a can't-miss stop on any trip to the area. There are performances there throughout the year, and not all of them relate to opera. Whether you get to see an orchestra, a soloist, a dance or an opera, it's one of the best places in the world to catch a show.
Play Games At Casion Wien
It can be hard to find great casinos these days. But some of the bigger and more popular cities in Europe still have them, and Vienna is no exception. Casino Wien (or Casino Vienna) is a particularly elegant place with pristine gaming areas, fine dining on site and happy crowds of gamers coming in and out. There are both table games and slots, though the blackjack tables may be the biggest draw. That's because strategy can be learned, and players can turn it into one of the more winnable games at the casino with the right approach. All in all gaming is gaming, but there's something nice about dressing up and heading for a night out at a real venue in the heart of Vienna.
Wander Around The Zoo
A zoo isn't always the best place to spend time when you're in a foreign city, but here, the Vienna Zoo is actually quite unique. It's the oldest zoo in the world and still features Baroque buildings in between the enclosures housing hundreds of different kinds of animals. Most importantly to many visitors, those different kinds of animals include healthy panda twins! The Vienna Zoo is a wonderful destination for families and is absolutely worth a stop.
Dine At Café Schwarzenberg
As with some other European cities like Paris and Amsterdam, Vienna is known for excellent cafés and coffeehouses. It's difficult to pick just one, but Café Schwarzenberg is as good as any. It's a very old café where you can enjoy terrific coffee and decadent desserts, as well as traditional savory Austrian meals. Plus, the place itself is a draw with its blend of elegant furnishings and a well-lit, casual vibe.
This post provided by guest contributors to Land of Marvels.