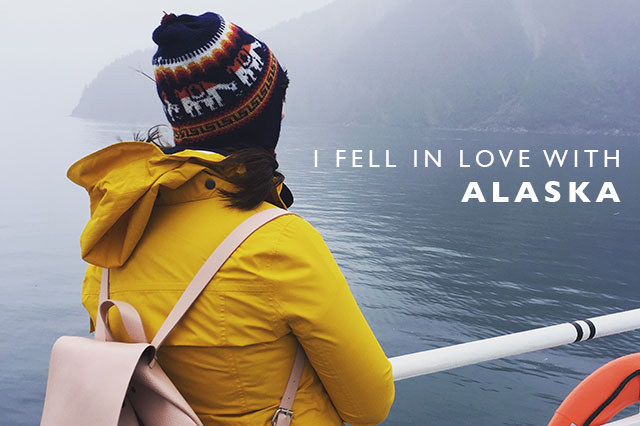 There are certain places in this world that connect with us, that draw us in, that speak to us.  And for me personally, I get really emotionally connected to places and feel really deeply connected to certain spots around the world.  Places like Paris, Vienna, Udaipur, and Iceland…all of them speak to me, all of them make me feel whole, make me feel like maybe in a past life I called each of them home.  Like maybe a part of my soul connects me to them.  And when we booked our last minute trip up to Alaska for Nick's work a couple weeks ago, honestly, I had no idea what to expect.  And because it came about so fast, I didn't have enough time to research, to plan, to really get an idea of what it would be like.  And yet, it turns out it's a place I will now add to that list of other destinations above.  It's a place that I fell hard for, a place I know will become a big part of our lives going forward.
On the way there, I just had a feeling.  I kept saying to Nick on the plane, "we're going to Alaska!!!!"  I haven't been so giddy as I was for a long time when traveling but something about heading North, something about this trip just had me from the beginning.  And upon arrival in Anchorage, I just knew it was special.  I just knew that this amazing state was speaking to me, pulling me in.  There is a magic there, a presence.
And I found myself, during our time there, being drawn in.  And while yes, the state is gorgeous and breathtaking and everything in between, I found myself drawn into the lifestyle, the cool gray weather, the authentic local vibe, the true essence of Alaska.  Much of Alaska reminded me of Iceland, another spot in the world that I count among my favorites.  Alaska just felt right, a connection that I felt immediately and lingered with me after we left.
There are certain places in the world that certain people just fit.  There are certain places that you just have a feeling about, an emotion you can't quite put your finger on, but an emotion that just feels perfect.  Alaska made me feel like I had arrived home, like some years down the road I might be there again curled up in front of a fireplace sipping a hot cup of tea as the snow falls outside.  Alaska marked my soul, it captured my imagination and it stole my heart.  And so when I think of this gorgeous state, I'll always remember how I fell in love with Alaska.