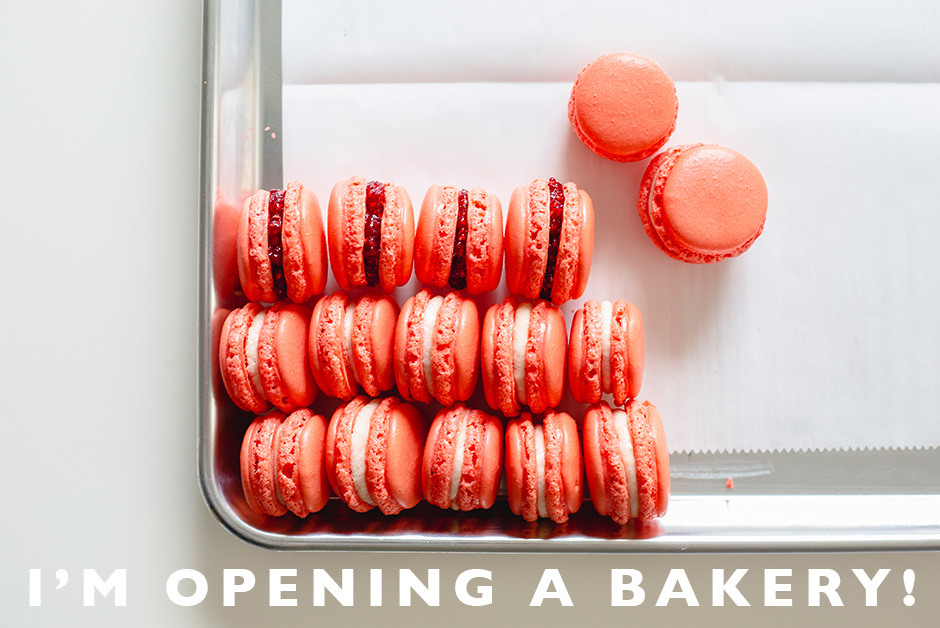 The title of today's posts might surprise you but if you know me personally or have seen subtle hints over the last several months on Instagram, this is a long time coming!  It's true, I'm opening a bakery!  More specifically, I'm officially opening a French Macaron bakery online on April 1st, a business that will see me baking fresh authentically French macarons for order and delivery in the Portland area.
The backstory to this is a long one and long story short, this is a dream of mine that I've had for years.  Baking has been a passion of mine for several years now and specifically, French macarons have sort of become "my thing."  I first started making them after coming home from our honeymoon in Paris almost ten years ago and over the years they have become a requested item that I make for dinner parties and for friends and family.
So when the Art Institute of Portland closed in December, the college where I had spent almost 4 years teaching Interior Design students part time and on the side of my day job as an Interior Designer, I felt like the universe was pushing me in the direction of something new and different.  After a decade as a designer, I decided that the time was right to pursue a dream I'd had for years and as such, Le Reve Artisan Macarons was born.
My new bakery will be an online ordering service, offering customers the ability to order fresh macarons (made within 24 hours of your event or delivery) delivered straight to your door.  With a large variety of flavors to choose from, my new venture will see me pursuing one of my greatest passions and offering that passion to people who can greatly enjoy my delicate creations.
There is something truly incredible about finding your passion in life, when you find that thing that just satisfies you like nothing else quite does.  For me, I have realized in the last handful of years, that is baking.  I hope that as I move forward with this venture, I'm able to show other people what baking can bring to your life and that through my baking, we can learn more about other cultures and ways of life as well.
The long term dream would be to eventually turn Le Reve into an actual brick and mortar bakery, but for now I'll be up and running April 1st, ready for orders!  If you're in the Portland metro area, I'd love to help you with events you might have and you can take a look at my website for more information on ordering.  You can also follow me on Instagram to see what we're up to over at Le Reve.
Oh and by the way, Le Reve means "the dream" in French and I don't think I could've picked more appropriate name for this venture as I move forward!
Check us out here!  And follow us on Instagram!