I wrote this post laying poolside at our gorgeous hotel in Udaipur, India, looking out over the incredible landscape in front of me, Lake Pichola glimmering and the mountains in the distance seeming to fade in and out of the blue sky horizon, completely in the moment, taking it all in.  There are some moments in our lives when you look around and are completely overwhelmed by beauty, this was one of those moments and the words seemed to want to flow from me, wanting to tell the world how incredible this country is and how much beauty it holds.
I wasn't sure before our trip how I would feel abut my return to India, I wasn't sure if I would like it, if it would just be overwhelming, if it would just be chaotic.  And now after experiencing it, India is for sure all of those things but at the same time, it's incredibly peaceful, immaculately beautiful and just plain interesting.  It's a land steeped in culture and contradictions, hillside palaces and tuk tuks, luxury hotels and falling down houses with roofs covered in monkeys.  It's a land of patience and chaos, of unspeakable natural beauty and skies full of choking smog.  Our time in India was full of every contradiction possible, but at the same time, that is what makes India, India.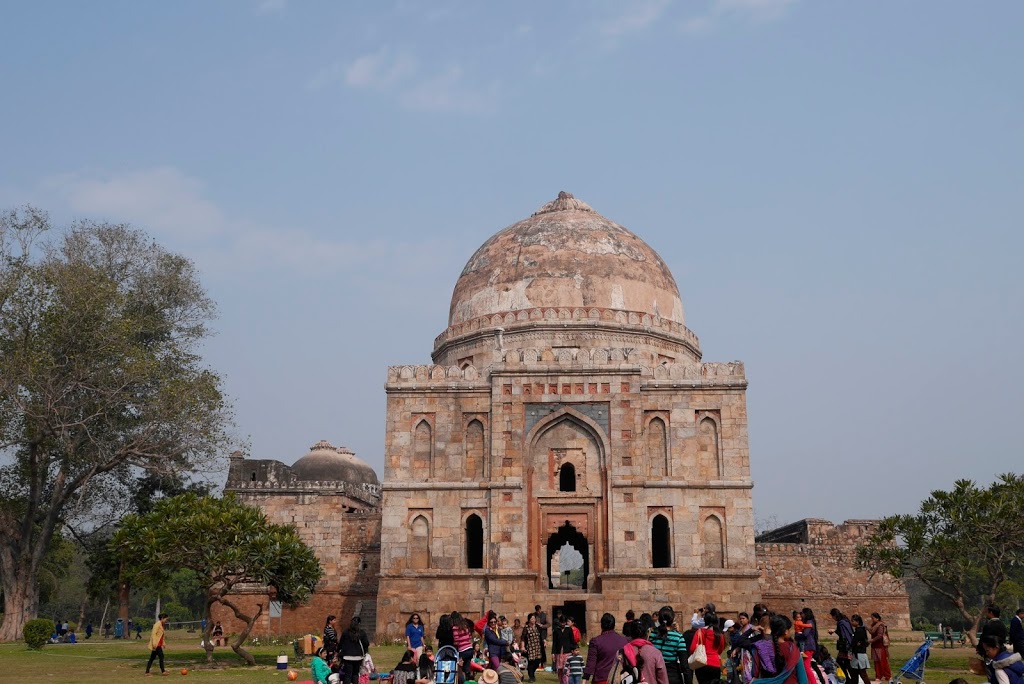 The beautiful Lodi Gardens in Delhi.
For anyone that says that India is all chaos, they would be wrong.  Sit on the shores of Lake Pichola in Udaipur and watch the sun set beyond the lush mountains and you'll know real peace or stand in front of the Taj Mahal at sunrise as the fog lifts itself in a hug around the immaculate building, as prayer call rings out and monkeys roam around you and you'll know true awe.  Sip a cup of masala chai or enjoy a trip through the many markets and you'll see what makes India so endearing, both the luxuries and the lowliest of India, they in themselves make this country what it is.  


It's safe to say that I fell in love with India, from the flat, dirty and chaotic streets of Delhi to the peaceful and serene shores of Udaipur, from the majesty of the Taj Mahal to the poor streets of Agra.  Each and every moment for me during our time in India showcased what this country is, both the good and the bad, the high end and the very lowest of the lows.  India is both streets filled with gaunt cows and dogs roaming free as well as the luxury five star hotels that are modern palaces in themselves.  India is both the smoggy skies and trash littered everywhere as well as the immaculate landscapes of Rajasthan.  It is both touched and untouched at the at the same time.  It is both in the present and the past.  


In the end, India is India.  It's not meant to be compared to other places, it's not meant to be fully understood by those of us not from there, it's not meant to be taken one side or the other.  India is meant to capture you, to see the beauty in a country that might be thought of differently by many around the world.  It's seeing the beauty in the chaos and the peace in the incredible culture.  India for me was about embracing the moment, whether that be in the back of a tuk tuk riding through an ancient city full of buildings falling apart or in the back of an Audi being whisked along the Expressway to the Taj Mahal.  


India made me feel alive, it made me feel deeply spiritual, it inspired me, it nestled itself into my soul.  It's a country I've always had ties to through family connections, a country that I visited many times as a child, and yet still it wasn't until this time that I found how much the country speaks to me in a way that I still can't entirely put into words.  

So I guess in the end, I will end with a simple phrase that expresses everything about this place that has touched me so very deeply: India, I love you.