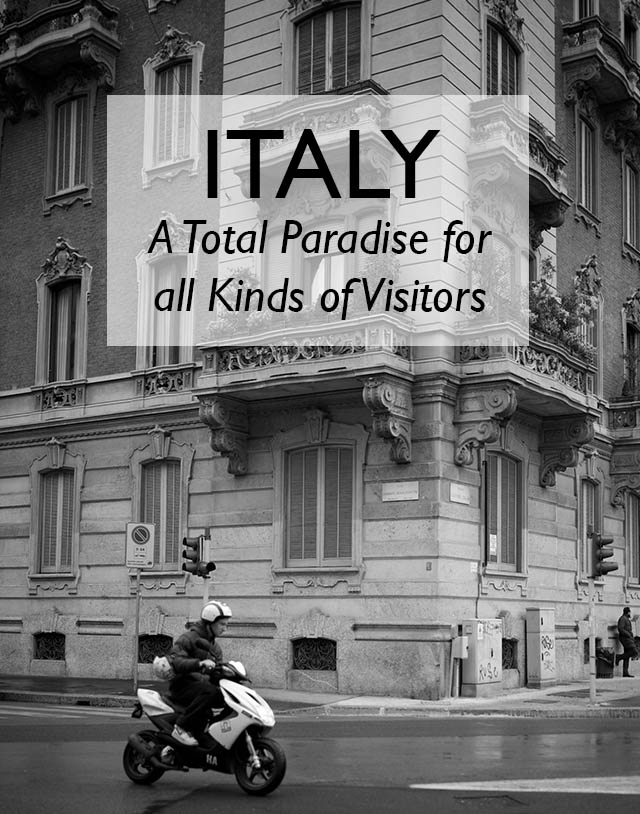 As well as being recognized as the center of attraction for romance and civilization, Italy offers its visitors the opportunity to have a truly entertaining, exciting and memorable vacation. Its fascinating history, traditional food, stunning cities, beautiful climate and friendly people are the perfect ingredients to stir up the trip of a lifetime.
I put this article together to give you a better explanation as to why Italy is a total paradise for all kinds of visitors, irrespective of their likes and interests. Let's take a look at just some of the reasons why this statement is so true.
Opera Enthusiasts
Because of its picturesque and historic opera houses, lovers of the opera generally fall totally in love with Italy. Opera fans should try to go and see some of the classical concerts rome has to offer has they are a one-of-a-kind experience. Generally speaking, the opera season starts in October and runs through to March or April with outdoor performances being held right throughout the summer months too.
Food Fanatics
Would you describe yourself as a food fanatic? Do you appreciate a good homemade pizza? If so, visiting Italy should be very high up on your 'to-do' list as it's one of the few countries in the world that is synonymous with classic traditional food and fine wine. Cheese, pizza, pasta, wine and coffee are the major components of an Italian feast and eating in Italy is a long and lazy affair – in fact, eating lunch could literally go on for hours (yes hours!).
History Buffs
Italy is known all over for the world for its captivating history, art and culture. Because of their stunning architecture and fascinating stories, so many cities in Italy are referred to as open-air museums. If you're a fan of museums and history, you'll be spoilt for choice as each and every museum in the country is home to some of the finest collections of art, ancient relics and sculptures that the world has to offer.
Beach Lovers
It's no secret that Italy is among the best places in the world to visit for beach lovers and with so many stunning beaches to choose from, it can be extremely difficult to just visit one or two. Most beaches offer tranquil and calm surroundings, both of which can be a very welcome break from the thronged feeling that can be got when visiting some of the more touristy places. Generally speaking, the beaches along Italy's coastline are extremely clean, litter-free, well maintained and safe to swim in and sunbathe on.
A trip to Italy is so much more than just a simple holiday; it's the discovery of an entire world of ancient wonders, beautiful landscape, amazing food and a unique way of life. Because of its sheer diversity, Italy is a total paradise for opera enthusiasts, food fanatics, history buffs, beach lovers and all other kinds of tourists who wish to enjoy a memorable vacation to one of the most beautiful places in the world.
*This post was written by supporters of True Colours.