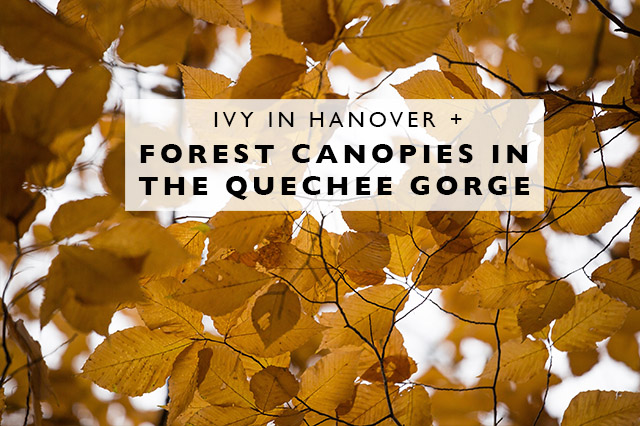 I had been looking forward to our New England Autumn road trip for months and the colors and leaves surely didn't disappoint once there!  From Boston to Hanover, New Hampshire, our first stop on our road trip through the North Eastern US, we drove in awe of the colors of the trees around us.  When we finally stopped and got out of the car in Hanover, I couldn't help but smile at all the Fall colors in this tiny cute little town and the leaves falling all around me.
Home to famous Dartmouth College, Hanover is a true North Eastern college town to be sure.  With cute little restaurants and shops, the main street is charming, made even more charming by the brick buildings covered in ivy and the Autumn colors lining the area.  If in the area, Hanover is definitely worth a quick stop for sure!
After lunch and a quick stroll, we jumped back in the car en route to Woodstock, Vermont when we came across a pull out for the Quechee Forest and Gorge.  So we pulled over, parked the car and ventured down the forest trail into the dense forest of changing colors.  With leaves falling around us and the rain starting to fall, we took it all in and then headed back to the car.  If you're driving this route, this was a great stop and an easy pull off of the highway!