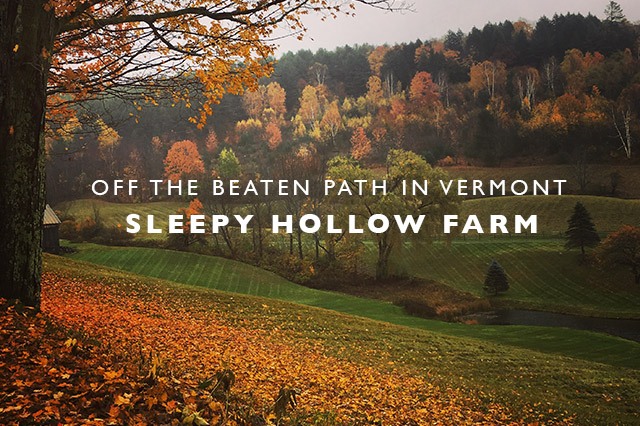 One place I was extra excited about on our New England roadtrip this Fall was Woodstock, Vermont, but more specifically the outskirts of the town.  I had found in my research this gorgeous farm just about 10 minutes out of Woodstock called the Sleepy Hollow Farm.  The photos looked amazing and we love a good adventure off the beaten path, so as we left New Hampshire, we crossed into Vermont and headed straight there!
In short, this spot did not disappoint and was even more beautiful in person (and on second note, when I saw Nick's photos of this area (below), I was even more in love).  The windy one lane road that takes you up into the hills above Woodstock is beauty enough, with Fall foliage galore.  But once at the top, the views look down over this beautiful farm and the surrounding hills, painting the whole scene like an oil painting.  The colors in Vermont in the Fall are so stunning: deep rusts, olive-y greens and glistening golds – together they create a color palette that doesn't even look real.  Vermont and its towns are gorgeous, but the true beauty of the New England Fall lies in the country, off the beaten path at places like the Sleepy Hollow Farm off of Cloudland Road.  Now if that doesn't sound dreamy, I'm not sure what will!
*For your reference, if you are looking to see this area and Sleepy Hollow Farm in particular, we found that Google Maps showed the address really easily while it didn't show on Apple Maps.