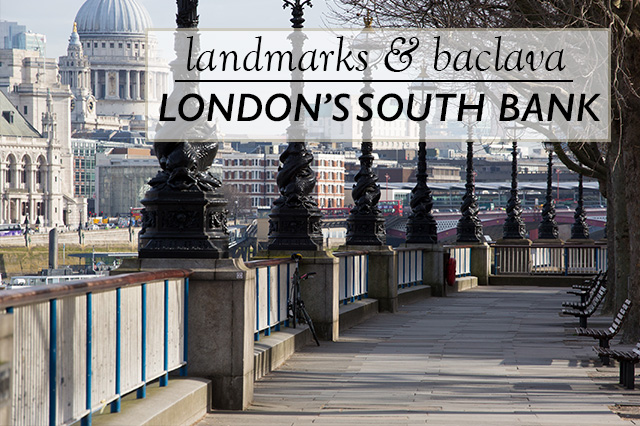 Since we only had one night in London, we awoke fully rested at the lovely Ampersand Hotel in South Kensington, enjoyed breakfast at the hotel and then headed out to explore.  Our flight to Barcelona left in the evening, so we had basically the whole day in London and I knew when we booked the trip that I wanted to spend it wandering along London's South Bank.  In all our trips to the city, we'd never made it to that side of the Thames and I wanted to take in the views of the London skyline from the South Bank, check out the Borough Market and wander for hours…and that's just what we did.
For anyone heading to London, don't miss putting the South Bank on your itinerary.  I can't believe it's taken me so long to get there, but it's so worth it.  We jumped on the tube at South Kensington and got off at Westminster, a tube station that you arise from and are immediately overwhelmed with views of Big Ben and Parliament.  We wandered along the Thames to the Embankment tube station and then crossed the river on the Golden Jubilee bridge.  After arriving on the South Bank, we just wandered the Queen's Walk towards the Tate Modern, passing the Globe Theater, with views of St. Paul's across the River.  As you keep walking, the landmarks of London rise on her horizon and it's a tour of London that's truly remarkable, the history, the buildings you know from movies, and on a beautiful crisp day like we had, I fell in love with all that is London all over again.
As you continue on, you can make a slight detour and stop at Borough Market, which I'd heard about over and over and never had visited… lesson learned: it will now be a stop whenever in the city.  From fresh produce, to meat to flowers, to cheeses to the absolute best Baclava I've ever had in my life, the Borough Market is not to be missed.  Wander through, grab a snack and then wander back to the South Bank, grab a bench and enjoy your treats.  We sat with a view of the Tower Bridge and the Tower of London, with blue sky shining brightly, on a cold crisp morning in London eating Baclava, cheesy olive bread and a fresh smoothie and couldn't have asked for a better adventure in one of our favorite cities.
Don't Miss on the South Bank
-Views of Big Ben, Parliament and the London Eye
-Wandering around Shakespeare's Globe Theatre
-The Tate Modern museum
-Stopping for views of St. Paul's, the Tower Bridge and the Tower of London
-Borough Market
-Views of the Shard
Headed to London?
Check out our London Travel Guide in the Land of Marvels Shop for only $5!