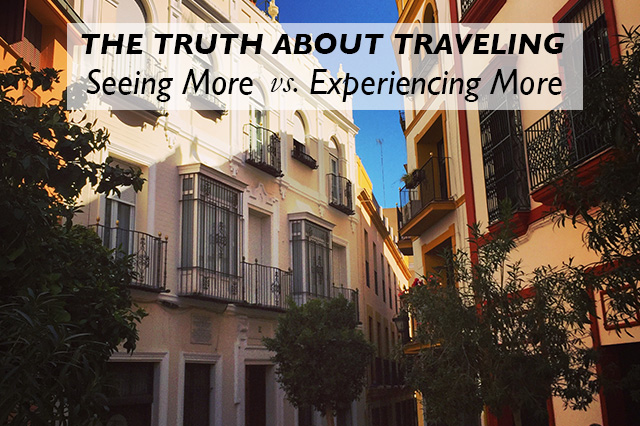 I find that with each trip and each adventure that Nick and I take, my idea of travel in general changes bit by bit.  As a kid, I saw travel as fun, as a way to spend time with my family and to see different places without any true emotional realizations, after all I was just a kid.  Then when I was traveling to Korea for work a lot straight out of college, I saw travel as an exotic adventure, work hard and play harder: spend all day at the office, then head out and experience Seoul at night, exploring the city streets and hip neighborhoods.  Then when Nick and I got married and we started traveling more and more, I saw it as a unique adventure between us, a way to see the world together, to take risks, see all we could and experience different places.  Now at almost 29 years old, I see travel as a way to expand our knowledge, a way to connect with places in our world on an emotional level, a way to find spots on this globe that feel entirely right, places that move us, that bring emotions out of us that not every place can, to feel and be inspired and learn.  A way to find those places on this planet that speak to us, that give us that feeling you can't quite explain but almost literally takes your breath away.
I feel more and more in the travel blogging community that it's just post after post about where to go, what to do and what to eat and while I do much of that too, I also hope to inspire you to go beyond just seeing as much as possible.  Travel is about feeling something too.  When you stop and ask yourself why you travel, I hope the reason isn't just to see as many places as you can, to mark it off a list, to see every site in the guidebooks.  Because I'm realizing more and more as I see more of the world that what makes travel so magical for me, what makes it inspire me and push me forward, are the emotional connections: experiencing more than just seeing.  We all can just see, we all can follow a guidebook and mark off the list of landmarks it tells us to see, but when there is an emotional connection, when you find those places in the world that literally take your breath away, those places that change you, those places that you might only see a tiny part of or that you decide to just wander instead of seeing the tourist attractions…those are the travel memories that I find mean the most.  It's about finding those significant places in the world that truly change you; for me it's the Udaipur's of the world, Paris, Sevilla, Iceland, Rhode Island… you'll find your own magic in the places you see, but when you find the ones that leave a true mark on your soul, that's what travel is really about.
Travel after all is about learning, it's about doing more than just seeing, it's about feeling too, about believing, about inspiring us.  So I urge you, the next trip you take, the next place you go…it might not need to be about seeing all the landmarks or tourist attractions, take some time to just wander, to breath in the place, to really experience it instead of just seeing it and I guarantee you'll find those places that leave something within you that is more incredible than any tourist spot on the planet.