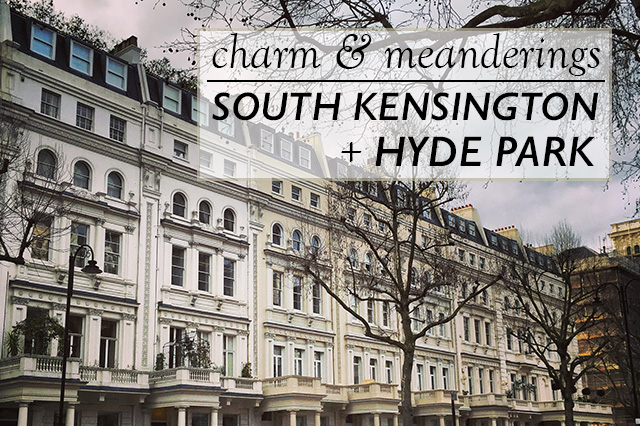 As I mentioned yesterday, London is a pretty fantastic city and I always cherish our time there.  From the moment we arrived on our honeymoon almost 5 years ago, I knew it would be a city that would show up on our travel itineraries for years to come.  And while we try to alternate during our trips through Europe with stops in Paris, London will always be a close second for our affection.  This last trip was no different and as with every time, when we came up from the escalator in Paddington Station after arriving into the city on the Heathrow Express from the airport, and I love that scene of the taxis all lined up, it's all so very London.  It's that moment when you really know, you're in London and it's brilliant (cue the British accent).
On this past trip, we only had one night in London and after arriving on the red eye around 10am we were exhausted.  We headed straight to the Ampersand Hotel and were able to check in early, so we unpacked and spent a couple hours taking a nap and getting organized.  Once we felt a little better, we headed out into our hotel's neighborhood in South Kensington and wandered through the streets as we made our way up to Hyde Park, taking in the gorgeous white row houses of the Queen's Gate and past the V&A and Natural History Museums, finally making our way to Kensington High Street and one of the entrances to the Park.
Hyde Park has been a long favorite spot of mine in London and I love meandering through each time, enjoying just the company of Nick and I, taking in the sights, watching the locals, and this time, enjoying the gorgeous blue sky weather.  We spent a good 45 minutes wandering through the park headed towards Oxford Street and Selfridges for dinner with my dear cousin and as we meandered through the park, by the Serpentine Gallery, over the water, up through where children were practicing horseback riding, and then out onto the busy streets of Oxford Street, I couldn't help but smile at the fantastic place around us.
Don't Miss in South Kensington:
-Wandering the streets, checking out the small shops and restaurants.
-V&A Musuem
-Natural History Museum
-Wandering the Queens Walk Road
Don't Miss in Hyde Park:
-Views of the Royal Albert Hall
-Kensington Gardens
-Rent a bike and meander through.
-Albert Memorial