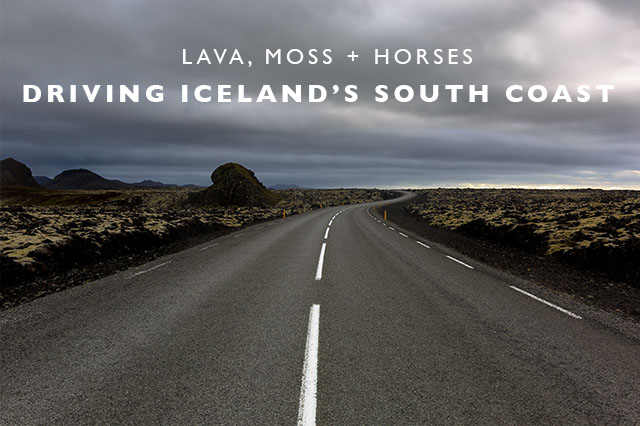 On our first trip to Iceland almost four years go in November, we hired a private guide to drive us around to some spots on the Golden Circle tour.  And while we did see the major spots, our driver also ventured off quite a bit to show us some beautiful places that not many other tourists were heading.  One such area of the island that I remember vividly falling in love with on that trip was Iceland's South Coast.  Imagine miles and miles of lava rocks covered in inches of think olive green moss, coast line stretching on and on with backdrops of volcanic cliffs.  And then in an instant, the landscape changes to flowing fields of Icelandic horses, coming up to the fences to greet you.  Iceland's South Coast was always a beautiful memory from our first trip, so when our GPS took us through this very same area when heading to Vik on this most recent trip, we reminisced the entire drive at home much we loved that first trip and the landscapes we saw that made us fall in love with Iceland.
So this trip, we spent a few hours driving the windy coast highway that curves along Iceland's South Coast, this time seeing it in all it's September glory, instead of snowy November.  And another change?  This time we drove it on our own, stopping every so often for photos or to play with the Icelandic horses that Nick had to basically tear me away from.  To start out our third trip to Iceland, I couldn't think of a better are of the island to drive along while in awe of the incredible scenery that Iceland offers.
Headed to Iceland?
Check out our Iceland Travel Guide in the Land of Marvels Shop for only $5!