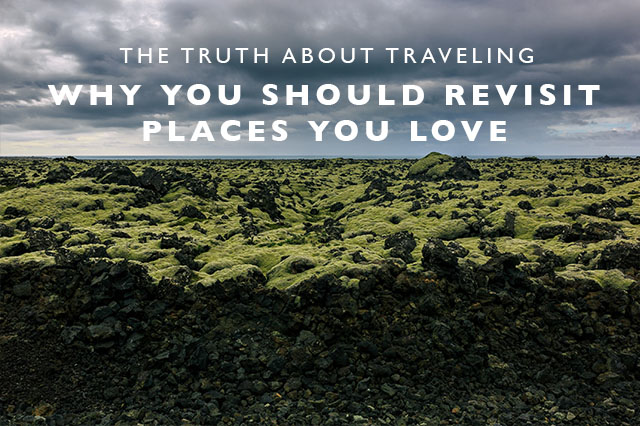 After we returned home from Iceland a couple weeks ago, our third trip to the amazing country, I got to thinking about returning to those places we love as a traveler.  We hear all the time from travel bloggers about all the places they see, about the places we're supposed to want to visit.  And in reality, most of us, myself included, often travel to places to experience them and check them off our travel list.  Some we like, some we don't.  But some we love, and when we do fall in love with places we visit, I'm a huge believer in returning to experience them again.
Personally, I'm not a traveler just for the sake of traveling.  And in all honesty, as much as I love traveling, I love being home too.  So when I travel, I'm traveling to feel something, to find love with a destination.  I'm not in it for the thrills, if that makes sense.  I'm in it for the "feels."  So when traveling becomes something else, when we're just checking countries off a list, when we visit some place one time and have no idea why anyone would go back – I don't quite get that and I think it's not doing the world any good service.
You see, sometimes we're too abstract as travelers or tourists.  Sometimes we forget all these beautiful places we visit have a whole story to them other than what our story as a traveler there might be.  And until we can open up and see more, visit more deeply, see places in different times of year or different times in our lives, we don't really know much about a place.  We never get to see beyond the surface until we revisit, until we come back.
There are places that I don't have a real desire to go back to, sure, but some places I revisit regularly because they mean something deeper to me.  This was our third trip to Iceland and we visited again not because we didn't have a million other places on our travel list (we do!), not because it was a necessity, but because we love the country so much we want to keep exploring it, keep opening ourselves to it, keep seeing more of what Iceland really is.  We try really hard (it's getting harder and harder) to return to Paris at least once every calendar year because it's a city we adore deeply.  There are some places you'll encounter in your travels, and they will be different for each person, places that just call you back to them.  So if you're just starting out traveling or if you're seasoned already, I think it's really important to remember not to just travel for the sake of travel, but to revisit places again and again, even if you have more new places to see.  It's important for us to return to places that pull at us, places that call to us on a deeper level.  It's important to dig deeper, to explore further, and to let our souls be drawn in to destinations that connect with our souls.