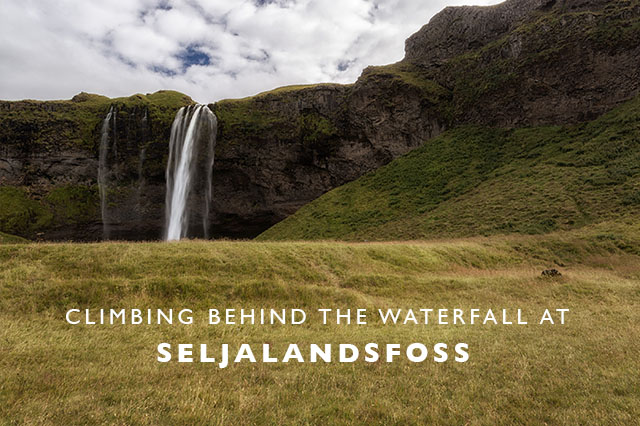 When we booked this most recent trip to Iceland, we knew we wanted to head in the direction of Vik on the Southern Coast of the island.  In previous trips we'd always explored inland or to the West and North, so heading somewhat South East was a direction we were intrigued by.  Interestingly enough, it's usually this direction that most people head (we apparently didn't get the memo), so it was a lot more crowded than some of the other parts of the island we've explored previously.
But regardless of the crowds, as we headed toward Vik, there were 2 waterfalls we wanted to stop at.  The first one about an hour and half outside of Keflavik is Seljalandsfoss.  I've seen lots of pictures of this famous Icelandic waterfall, but I have to say, seeing it in person doesn't do those photos justice.  Not only is this amazing site spectacular to see, you can actually walk behind it and see it from every angle which is a pretty unique feature.  It's places like this where Iceland is truly at its best, a giant waterfall in the middle of gorgeous scenery that you can explore on all sides.  And while it was a little busy, it didn't even distract from how stunning it really was.  If you're headed this direction in Iceland, don't miss climbing behind the waterfall at Seljanlandsfoss!
Headed to Iceland?
Check out our Iceland Travel Guide in the Land of Marvels Shop for only $5!