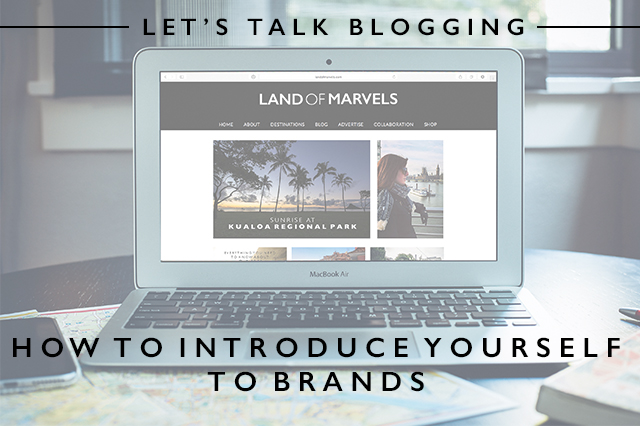 All week this week, we'll be talking blogging!  I know it's a break from regular travel posts but with a lot of questions swirling around the internet about blogging and after having been asked some of these questions regularly, I thought it worth while to commit a week to discuss this crazy world of blogging.  And hopefully, you'll walk away with some answers to your own questions too!
Yesterday we talked about how to reap the rewards of your blog, today we're going a step further and explaining exactly how to reach out and introduce yourself to brands you want to work with.  I have come to really value the partnerships I've made with hotels and travel brands and often when we travel, half or more of the hotel nights end up being free or for discounted media rates or I'm working with travel brands while we're gone to experience things wherever we're traveling.  Working with brands can be a really rewarding experience for both the blogger and the company, so get out there and here's how to introduce yourself to brands!
1.  Contact the brand you want to work with through email.
Most of the brands I work with are hotels throughout the world.  When I know we're headed somewhere, I create a short list of the hotels I would like to stay at based on our criteria.  Then I go through each of their websites, find their contact pages and their email addresses (9 out of 10 hotels will have an email address on their websites these days).  I have a standard email I send to hotels, which I title "Travel Blog Collaboration Proposal."  I then go in and update the details for this particular brand or city.
2.  Specify dates or other details necessary.
In your email message, specify the dates you're looking at.  If you only have a time frame and not specific dates, mention that.  But most of the time, brands will want to know exactly where and when so they can look up rates and offers.  I always specify for hotel brands which dates as well as how many nights, just so they see it both ways.
3.  Leave your message somewhat open ended as to what you want. 
I like to leave my emails somewhat open ended as to what I'm asking for, leaving it up to them to either offer me a free stay or a discounted media rate.  I use the phrase "I was wondering if you'd be interested in offering me a stay at the hotel in exchange for reviews and publicity on my travel site and social media."  That way, it's up to them to decide which options they can offer.
4.  Promote why the partnership would be beneficial.
I then follow up the previous sentence in #3, with a sentence about my blog following and why my blog is worth working with.  Promote yourself and your blog and why the partnership with this brand would be beneficial for both of you.  I don't offer specific numbers as those are always changing and growing, but I do say that I have "thousands of followers" to give them an idea of your following before they even look at your site.
5.  Be clear about what you'll offer in exchange.
It's really important to be clear up front what you're willing to offer in exchange for whatever deal you're getting.  I always offer a review post for hotels, travel activities or restaurant reviews as well as social media while we're there, tagging the brand or the hotel or company.  Being clear up front will help clear up any confusion later and the brand will know better of what they can offer.
Looking for more posts on Blogging?
See our archives here for Blogging posts.