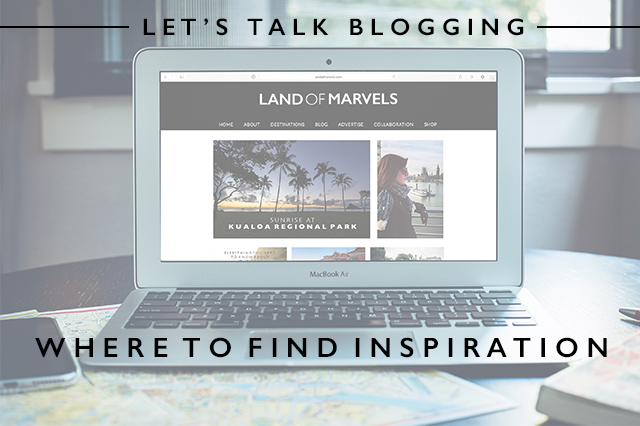 All week this week, we'll be talking blogging!  I know it's a break from regular travel posts but with a lot of questions swirling around the internet about blogging and after having been asked some of these questions regularly, I thought it worth while to commit a week to discuss this crazy world of blogging.  And hopefully, you'll walk away with some answers to your own questions too!
If I notice one thing in the blogging community, for myself and other bloggers I follow, is the pursuit to constantly find new inspiration.  Inspiration not only on topics to write about or share, but inspiration to keep going, to keep pushing, to keep interacting with the blog community.  I get it, I've been there numerous times myself, when I wonder if it's all worth it, wondering if anyone is even out there reading what I write, wondering if I can even come up with another week's worth of posts.  So today, I'm going to share where I go to find inspiration and when you're at one of those moments when you're not sure of where to go next, here's what you can do and where to find inspiration for your own blog.
1. Other Blogs
This first and foremost doesn't mean ripping off ideas from other blogs, but often times I'll see a post on someone else's blog and immediately think of something related or similar I'd love to write a post on.  Other times taking an idea and building on it is great too.  Other blogs can be a great source of inspiration so when you find something you like or an idea you'd like to build on, write it down.  (I keep a running list of post ideas so that when I'm stuck, I can go back to that list and grab an idea from there.)
2. Pinterest
I find that often times when I'm in need of inspiration, I'll head to Pinterest and browse for a bit.  I'll go through the main feed and see if anything looks interesting, if there is an idea I can grab and work on it my own way and style.  If nothing pops out there, I head to my personal boards, particularly my travel and quote boards, which usually will grab me with some sort of inspiration, whether travel related or more inspiration from world issues or famous quotes.  (I also like to save screenshots of graphics I really like on Pinterest to help me when I'm blocked on that front.)
3. Life Moments
I actually find that most of my inspiration comes from life moments each and every day.  Whether it be while I'm traveling and something inspires me to write a post or I'm at home and an idea suddenly pops into my head, the key here is to write it down.  I keep a few different lists depending on where I'm at and then combine them all later.  One of my favorite ways to make a note for myself if I'm on the go is to email myself, that way later I can consolidate that idea into my other main list.
4. Magazines
I love using magazines as inspiration.  Whether it's from a lifestyle magazine or a travel one, I will often take an idea I see in magazines and run with it.  This is also a great place to get inspiration for graphics.
5. Experiences
Finally I also take a lot of inspiration from experiences I've had.  For example, many of my blog posts like this series (and previous ones like these) are from moments when I was trying to answer questions for myself about blogging or when I felt like I wished there were more posts out there on a certain topic.  So draw from what you see out there in the internet world and also what you don't see.
Looking for more posts on Blogging?
See our archives here for Blogging posts.