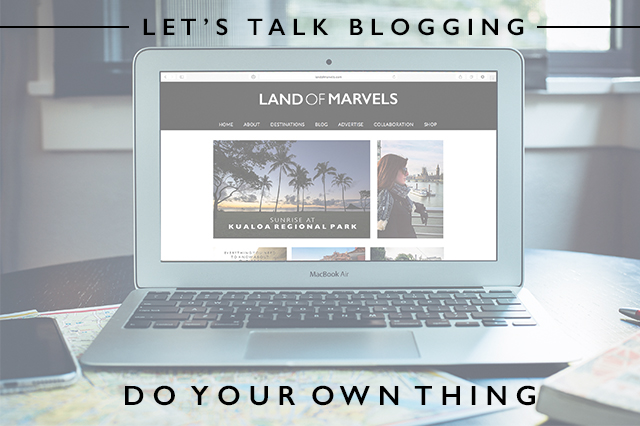 All week this week, we'll be talking blogging!  I know it's a break from regular travel posts but with a lot of questions swirling around the internet about blogging and after having been asked some of these questions regularly, I thought it worth while to commit a week to discuss this crazy world of blogging.  And hopefully, you'll walk away with some answers to your own questions too!
If you're just getting into blogging or you've been doing it for a while, there is an incredible amount of resources out there these days to help you learn about all things blogging.  There are also a lot of posts floating around out there telling you to do this or that, that this is the only way to do it or that if you're not doing this, you're not blogging correctly.  I'm here to tell you today, take all of that with a very large grain of salt.  If I've learned anything in my 3+ years of blogging seriously, it's that doing your own thing and not worrying about what we all "should" be doing has been the most liberating and most successful thing I've done.  Not to say you can't take advice, because I totally recommend that, but realizing that you might do things differently and realizing that that is totally fine and even better, it's probably better for you as a blogger in the long run.  So if you're wondering which advice to take, here's what I suggest to do your own thing.
1.  Don't follow every rule you hear.
There are a million posts out there telling you how to gain followers, how to post, how to do your graphics and on and on.  My one piece of advice would be: don't listen to all of them.  Pick the ones you find relevant to you or the ones that you think might fit with your blog, but ignore the rest.  The way that my blog operates or gains followers is completely different than someone else's, so know what works for you and ignore the rest of the rules floating around out there.
2.  Don't let negative comments get you down, know who you are and don't listen to anything else.
I've had my fair share of haters along the way through blogging and in the beginning I would read all the negative comments and really let them bother me.  I once had a forum thread tearing me apart piece by piece, saying things like I wasn't even really born in the Middle East (which I was, you can see my birth certificate) and I had made it up, to tearing apart posts I had written.  It was awful, but one thing I walked away from that with, I don't even read those comments anymore.  I know who I am and what I stand for and how I want to live and I don't need that negativity in my life, nor does anyone else.  It's ok to delete the comments that bother you and to ignore the people that are so unhappy in their own lives that they have to tear everyone else around them down.  Just ignore it and move forward.
3.  Do things your own way.  
I hear all the time, do this to promote your posts.  Do this to gain more followers.  Do this to increase your SEO.  And guess what?  While some of the advice might be worthwhile, I'm a true believer in doing things your own way.  I know I could be gaining way more followers on Instagram if all I did was post travel photos from a DSLR all the time, but instead, I actually like my followers to see my every day life, travel and my normal routine at home, all shot on my iPhone.  I know I could be reaching out to new audiences and gaining more views and followers through increasing my SEO, but the most I do on that is use the SEO plug in on WordPress because it's all I really have the time or inclination to do right now.  Don't worry about doing things the way everyone else is doing them or going with everything everyone tells you to do… do it your own way and it will work out just fine.
4.  Passion vs. Making Money.
Land of Marvels for me has always been about the passion for writing and travel instead of the money.  I hardly make any money from my blog but what I do gain from it is the exposure to work with travel brands, the incredible community in the blogging world and a fulfillment in my passion for travel and sharing that with the world.  I genuinely love writing each post and sharing travel secrets and amazing places with my followers, so much that I am still writing 5 posts per week years after starting in the blogging world.  Land of Marvels still is and I hope always will be, a place for my passion of travel.
5.  Do what feels comfortable.
There is a lot of information floating out there telling bloggers to do this and that.  The key at the end of the day is doing what feels comfortable to you.  If you're not comfortable using Instagram, then don't.  If you're not comfortable sharing personal information, then don't.  Do what feels natural and comfortable to you and your followers will support you.
Looking for more posts on Blogging?
See our archives here for Blogging posts.