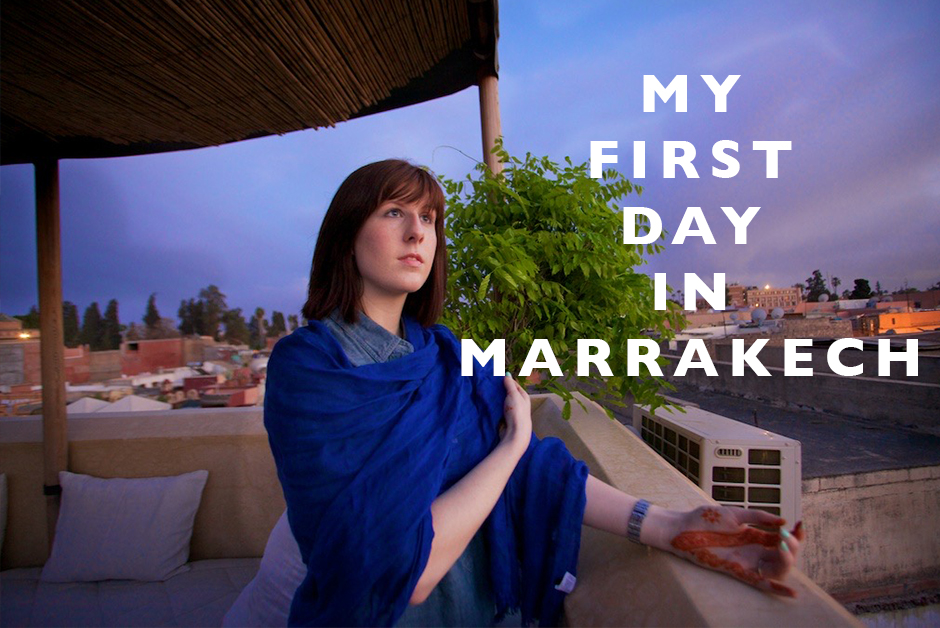 For a long time, I've wanted to go to Morocco. I've always been fascinated with Middle Eastern design and aesthetics, but something about the Moroccan designs, their lanterns, their patterns has always pulled me in. It was always a place at the top of my list to see when I could get there, always a place that had a unique draw for me, part Middle East, part European, part something completely else. It's a unique place for many reasons, one is that there are two very distinct groups of people in Morocco, the Berbers and the Arabs and do not call one the other. The Berbers will tell you they are not Arabs, and vice versa. This country is also African, not truly Middle Eastern, therefore it brings yet another unique part to it, the colors and the boisterous personalities of Africa definitely come through here. It's a place that prayer call sounds, yet no one bothers to stop and pray, much much different than I remember when prayer call sounded growing up in Saudi. It's a place that has many rules, yet many are broken all around you by Moroccans and tourists alike. It's a place that donkeys roam the streets and there are no traffic rules, resulting in very high fatality rates among drivers in this country. It's a place that is very Arab and there were times that standing there on the street corner looking around, I felt transported back to my childhood. Certain things didn't phase me because I lived them for half my life, prayer call, women covered from head to toe, men driving motorbikes with their wife and 2 year old child holding on to the back as they speed around, the aggressiveness of some of the Arab men and bargaining with them, the feel of the dessert air.
Our days in Morocco were fabulous and we had an amazing time roaming the city of Marrakech, getting lost, very lost and finding our way. Learning lessons of how to say No, and say it firmly enough for them to leave you alone. We loved the food, the people and the place, though at the end of 2 1/2 days there, we were worn out, physically and mentally. Thanks goodness we had our quiet peaceful Riad 72 to go home to at the end of the day. The Middle Eastern culture is one of very few that are so demanding, so exhausting. And perhaps its because it's so different than our daily lives in the West. But that's also what fascinates me, how the world can live so differently than others, and that's something that I think most people don't realize at all. We could never ask the Moroccans to live like us, it wouldn't work. That's not who they are.
I was blown away by the beauty in Marrakech but for different reasons than you might think. Of course the Mosques and the minarets are breathtaking and have stood there for centuries. The palaces, the gardens, they are fantastic and their history is rich. The lanterns, the carpets, the doors on ordinary buildings, they truly are incredible and the skill of the craft is beyond anything we can imagine. Those things blew me away and were exactly what I hoped Morocco would be. But then there are the souks, the old streets, the falling apart buildings, the roads with no stripes, the donkeys pulling their carts, the random assortment of colors and patterns, and in the chaos, in the falling apart city, there is another kind of beauty. You are blown away by the closeness of this city, the closeness of the buildings to one and another, the closeness of the people to one another. I always loved that about the Arab culture growing up, the Arab men always coming up to another, giving a kiss and saying "Salam alaykem," meaning "may peace be with you." And then you actually listen to Arabic being spoken, a language I've always found so beautiful and so intricate. But if you actually know what those words mean, many of them don't just mean hello or goodbye, they offer to peace to one another, they offer love. And then you stand there in the middle of the Moroccan street, chaos all around you, so lost in the maze of alleyways and streets with no names and suddenly it hits you, there is such a beauty to the way those people live. There is such a history that we cannot even fathom, those people and their families have been there forever, they descend from so many different paths of life, so many different places. There is awe in Morocco that I remember as a child in Saudi, an awe at the way these places work, the way they smell, the way they feel.
The first day in Marrakech, we headed to the Souks and along the way got stopped by a "guide" who in reality was someone's brother's friend, people who hope to grab tourists and make money by showing them the way somewhere, usually to their friend's brother's shop in the souk. Well this man led us to a rug shop, with some truly breathtaking designs where they offered us mint tea to sit and take a look at what we wanted to buy. Not that we wanted to buy but it's a game to play along with. So we sipped our mint tea, and looked at the carpets, both Berber and Moroccan and we were reminded many times that they are very different, just like the people. After finally getting out of there and losing our "guide" we embarked on the tiny alley way markets known as "souks" in the Middle East. All I have to say is thank goodness for GPS on our phones, as that guided us through and then eventually back to our hotel. These souks are mazes, they have wood slat roofs over the alley ways to block out the sun but in doing so, they disorient you. No signs anywhere, every shop looks the same and it's virtually impossible to find main roads to get back to without getting to them through back way alleys that you're not sure actually are streets. Nick and I really enjoyed the souks and we got lots of great stuff for very low bargaining prices, but it was also an experience that puts you just a little bit on edge. We were ready after that to get back to our Riad and experience some calm. So we grabbed lunch on our way back at a little outdoor cafe, drank our Arabic Perrier and then headed back along the patterned side walks to our Riad.
The place we stayed, called a Riad in Morocco, is something this country is famous for. There are Riads everywhere and actually very few actual hotels and those tend to be quite expensive. Our Riad 72 was fantastic. It was off the main road, down small back alleys that you could only walk, no cars. When we arrived, a man from the Riad that we nicknamed "Jaque" as he only spoke French to us the whole time, even though we really couldn't answer much, he kept going. Anyways, Jaque arrived with a wheelbarrow, put our bags in it and wheeled us down the alley to our Riad. He opened the door from a shabby alley way to a palace like interior, a tranquil setting luminated by Moroccan lamps throwing patterns of light all over the walls, to archways and old wooden Morrocan doors. It was absolutely breathtaking and we felt the whole time like we were staying a palace. A central courtyard with palm trees and a water feature was where we ate our meals and upstairs our suite had 25 foot high ceilings of carved wood, our door was probably hundreds of years old and carved to every detail. The floor was Morrocan patterned tile, and the walls a mix of concrete and stucco. This place was amazing and the food we ate there cooked by the lovely Fatima, was absolutely amazing. We indulged in 3 course meals cooked by her two of our three nights there and ate every bite.
After we arrived back at the Riad the first day after our adventure in the Souks, I had made an appointment to have henna done on my hands at our Riad. So while waiting for the woman to come do my henna, we sat in the lobby courtyard and drank Moroccan mint tea and lovely little cookies and biscotti made by Fatima. We truly felt transported, sitting there in this foreign place, sipping mint tea and looking around at this breathtaking building. When the woman arrived to do my henna, we moved to the rooftop of our Riad, which had views of the whole area. We sat upon the roof as she drew Henna tattoos on my hand. The speed and skill in which she did it amazed me and I'm so glad I had it done. If you don't know, Henna is very common in the Middle East and India. Henna is a plant that grows in that area of the world and they mix it with dyes and chemicals so that it will temporarily tattoo your skin. The women in those parts of the world are usually always clad in Henna on their hands and feet and sometimes on other parts of their bodies for religious ceremonies. It's basically a dark orange tattoo on your skin that fades and washes off completely in a couple weeks. The woman did half my hands in Moroccan designs and the other in Saudi Henna designs as I mentioned to her that I was born and raised there. I really enjoyed having the half and half design as it was so me.
The rest of the day we relaxed and went down later to the lobby for another amazing dinner as we sat beneath the setting sun and the swaying palm trees, the sound of the water fountain running around us. There were moments that took my breath away in Morocco, moments that I felt transported back to being a kid in Rahima, Saudi Arabia. There were moments that I was overwhelmed, moments when I was ready to be back in the West. But there were also moments when nothing could be more beautiful than the surroundings I had around me.
Morocco for me was everything I hoped and everything I expected, but it also had many surprise in store. I didn't expect it to be so bilingual, Arabic and French; I didn't expect it to be so European, I didn't expect so many tourists and I definitely didn't expect to see no respect whatsoever in the way the Western women dressed. I wore long dresses both days and wouldn't have felt comfortable if I hadn't. I was definitely covered and I felt like that was so much more respectful to the people, to Islam, to show whatever respect I could to this beautiful place.
Traveling to Morocco?
See all of my posts on the country!